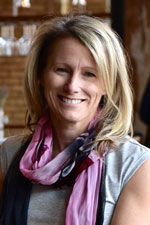 In this episode [S1E3] of "Tucker Center Talks," Dr. Nicole M. LaVoi talks with Dr. Austin Stair Calhoun, a Tucker Center Affiliated Scholar and currently the Chief of Staff at the University of Minnesota's Office of Medical Education. We talk about our research together pertaining to family narratives in online coaching biographies of collegiate coaches and her dissertation on the gatekeepers who decide what and how online coaching biographies are written. We discuss new data 10 years later, why erasing same-sex family narratives matters in perpetuating homophobia and heterosexism, and implications for athletic administrators. View the poster and read the full manuscript.
Calhoun, A. S., LaVoi, N. M., & Johnson, A. (2011). Framing with family: Examining online coaching biographies for heteronormative and heterosexist narratives. International Journal of Sport Communication, 4(3), 300-316.
Calhoun, A. S., LaVoi, N. M., & Kane, M. J. (2009). Examining online intercollegiate head coaches' biographies: Reproducing or challenging heteronormativity and heterosexism? Poster session presented at the Sport, Sexuality, and Culture Conference, Ithaca, NY.