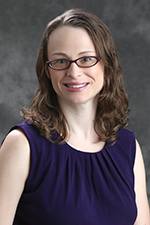 Virginia Clinton, an alumni of the psychological foundations in education program, PhD '11, began as a classroom teacher in New York City and started becoming curious about how her students were learning. This lead her to read about educational psychology on her own, and promoted her to get her PhD in the topic.
When asked about her experience at the University of Minnesota, Clinton states, "One of the best parts of my graduate school experience was the cohort I was in. I took classes and worked on projects along with a group of peers. These friendships are still part of my life and I collaborate on research projects with two members of my cohort (Sarah Carlson and Ben Seipel)."
Currently an assistant professor of educational foundations and research at the University of North Dakota, Clinton teaches courses in human development, educational psychology, and educational research methods at the undergraduate and graduate level. Her research focuses on student learning and cognition which she states is, "how students think and how we can design instruction and learning environments to promote student learning."
Clinton tells students, "Make the most of the experience! Minnesota has a wealth of intellectual resources and a wonderful community of scholars"
She continues, "You will have the opportunity to learn from accomplished faculty who are well regarded in their fields. You will also get great research experience that will develop your skills to address your own research questions."
Outside of work, Clinton runs and is an avid yogi, activities she started pursuing during graduate school.
She states, "Living in a community with so many great jogging paths got me into running—I actually ran marathons in graduate school! And I started taking advantage of the great yoga studios near campus and my neighborhood (Uptown Minneapolis)."