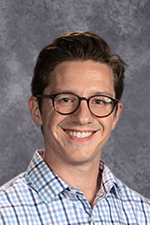 Aleksis Kincaid, alumni of the school psychology program, PhD '17, is currently district response-to-intervention coordinator and high school school psychologist for The School District of New Richmond in New Richmond, Wisconsin.
We asked him about his experience in the program, here are his answers:
Q: How do you use or apply what you learned/your degree?
"I use what I learned in the school psychology program daily. I regularly use my consultation and research experience to make sure team members are discussing the same idea by prompting specific and observable definitions and defining ways we can measure what we are interested in assessing. This helps tell us how we will know if a student has made progress on a goal we develop. Above all else, the U of M taught me how to teach myself new skills and assess the quality of information. These are critical skills in the education system that help ensure that students are taught using evidence-based practices."
Q: What did you most enjoy about your experience in your program?
"I especially enjoyed having the opportunity to complete research projects with a variety of experienced researchers in the field of school psychology. Working on large research projects while learning what questions to pose, how to build a study to answer a given question, and then interpreting and forming next steps after collecting and analyzing data gave me the confidence to branch out and pursue research questions of my own."
Q: Do you have a motto or set of words to live by that helped you through your program?
"Jack Kerouac's quote, 'One day I will find the right words, and they will be simple,' exemplifies the difficulty of reducing complex topics and processes into terms understood by practitioners without the same level of background knowledge. I always approach new topics by asking myself how I can make a concept seem simple and intuitive."
Q: Do you have hobbies or activities that you like to do outside of work?
"I taught myself how to skate ski (a type of cross country skiing) and downhill ski this year! I needed to learn a couple of winter sports to stay active in the winter. In the summer, I enjoy long-distance bike rides and swimming. Year round, I like to read a good book, and keep up on data analysis and visualization techniques.