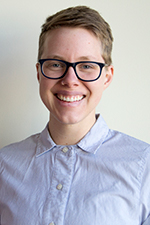 Hannah Boldt didn't always know she wanted to be a counselor. Initially, she pursued a degree as a saxophone player. She switched her major to international studies with the intention of working in international aid in West Africa, however upon graduation found a career in the software and I.T. sector where she worked for four years. Now a second-year counseling and student personnel psychology (CSPP) student, Hannah is excited to finally be on her path to becoming a counselor or therapist.
She says it was her own winding road to find her passion that drew her to the field of career counseling and personal therapy.
"I want to normalize the student experience of not knowing what to do, or graduating in something and not using it," Hannah says.
We sat down with Hannah and asked her a few questions about her experience as a CSPP student and what insights she'd like to share with other prospective students. Here's what she said:
What surprised you along the way?
"I was surprised at the amount of emotional energy it takes to be a counselor. I knew what I was getting into, but my expectations weren't prepared for the amount of personal reflection and growth I would be doing. Overall, I've experienced a lot of emotional growth."
What's something you've most enjoyed about your experience?
"I was ready to be back in school and learning, after taking 4 years off in between my undergrad and master's. I came in with the expectation to be a sponge and take in everything. It's been so exciting and exhilarating to learn more about the field of psychology and counseling."
How would you describe the student experience and what does that mean to you?
"In CEHD as a whole, I've been impressed with the opportunities for engagement. Every day, there's a different talk or seminar going on and it feels like there's a spirit of engagement and learning. Sometimes I think I signed up for a little too much. I'm working three jobs and go to school full time."
How have your professors helped you along the way?
"All three of my professors in the CSPP program have gone above and beyond their role. It seems like they take a vested interest in my growth as an individual and professional. I work with Dr. Ohrtman doing clinical placements and she is communicative and dedicated to connecting, networking, and helping me professionally. My adviser, Dr. Howard, helped me with the emotional journey transitioning from work and adjusting to a graduate program. She also suggested that my practicum be with Student Counseling Services, which has challenged me to grow outside my comfort zone. Lastly, Dr. Berger has been always accessible and an excellent advocate to better the program."
What would you like prospective students to know?
"Grad school is tough. Also, it's incredibly worthwhile. I've been challenged to grow as a person and define my values and what I stand for. In the counseling program, I appreciate the advocacy element. It's not just having these values, but the responsibility to take action. You have to be prepared to do emotional work and self reflection. As a result, you will grow as an individual and come into your own."
How has your cohort helped you along the way?
"My cohort has been so helpful and important to me. There's 35 of us, but we have a strong bond because we are all going through the process of discovering ourselves and the profession together. We all came in with different experiences, and it's helpful to have people to lean on when things get tough and to normalize the experience."
What are you looking forward to with graduation?
"Having a job that I look forward to going to and getting paid for something I love doing, is what I'm most excited for. I'm ready to use what I've learned and put it into practice. It's great to feel like I've arrived at what feels like my 'calling' after 27 years of wondering what I was meant to do as a professional."
This post was originally written by Ciara Metzger.