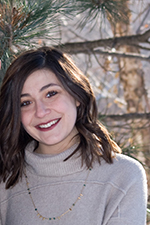 Lara Jessen is an alumni of the psychological foundations in education program, PhD '17. Currently, she works for Minneapolis Public Schools; Department of Research, Evaluation, Assessment, and Accountability (REAA) as a data scientist where she supports community partners and schools with data-based decision making and data literacy.
We asked her a few questions about her experience in the psych foundations program, here are her answers:
Q: What did you most enjoy about your experience in your program?
"I really valued the independence I was afforded in psych foundations. I was able to explore my interests and do work that helped me find my current position with Minneapolis Public Schools."
Q: Do you have any advice for prospective students?
"Explore your interests, both academic and professional, but don't lose sight of your end goal. Don't be afraid to say "no" to a job or project if it won't help you get to where you want to be. Also, network!"
Q: Do you have a productivity secret that helped you get through school?
"Every two weeks, I would meet a friend of mine for lunch, and we would set goals specific to our dissertation and research. It really held me accountable for my progress, especially as my work became more self-led."
Q: Do you have hobbies or activities that you like to do outside of work?
"I love cooking, reading, and hiking!"