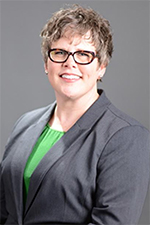 Sarah Gustafson-Dombeck, alumni of the counseling and student personnel psychology program, M.A. '17, is currently a care manager at the University of Minnesota's Office for Student Affairs Care Program
We asked some questions about their experience in the program, here is what they said:
Q: What are you responsible for in your position?
"As a care manager, I assist and provide ongoing support through individualized case management for students dealing with increased stress, illness, personal emergencies, or other unexpected difficulties, as well as consultation and training with faculty and staff."
Q: What was most exciting about the program?
"Who I am today, both professionally and personally, is shaped by my CSPP graduate studies and practicum. My current position incorporates many themes taught in the program: Be fully present, demonstrate respect, support personal growth and foster well-being."
Q: What would you like prospective students to know about your program?
"The CSPP program is transformational both personally and professionally. Be prepared to challenge your current held beliefs and be willing to engage in multiple perspective taking. Direct service and consultation with others will widen your world view and scope."
Q: Do you have any advice for prospective students?
"If you are a nontraditional student, please know that you are valued and have a place in the program, do not rule yourself out because you balance other commitments and identities separate from graduate school."
Q: Did you have a motto that got you through graduate school?
"'You will because you can!' I often shared this motto with other peers, because grad school can be daunting, but it is important to remember the strength and ability you possess."
Q: How did you celebrate completing your program?
"As a treat to myself for full-time work, grad school and parenting, I got on a plane with a friend and headed to Ft Myers Beach, FL and stayed in an oceanside hotel. I spent a few days floating in the salty water, explored the sandy beach and enjoyed the night sky to celebrate my accomplishment".