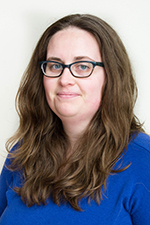 Katherine Edwards, alumni of the quantitative methods in education (QME) program, PhD '16, has always had a passion for education and working with numbers.
Edwards received her bachelor's in math and psychology with minors in education and statistics. Her major gave her the opportunity to study abroad in Denmark and it was there she first participated in an educational psychology program where she was introduced to the country's education system.
In Denmark after talking to some teachers, Edwards decided she could contribute to the field of education in ways other than teaching which led  her to pursue her graduate degree.
"In searching for various graduate programs which focused on quantitative analyses in psychology, I discovered the QME program at the University of Minnesota. I read the information about the courses I would take in the program and was immediately excited."
Currently a data and research analyst at the Minnesota Department of Education, Edwards' work is focused in several areas, but most predominantly around early childhood, English
learners, school and district accountability systems, and data reporting to the public.
Edwards offers advice for students, "It's important to actively try to have a balance in your life. Graduate school is time intensive, but it's important that you still make time to go out and do fun activities just because you enjoy them. If you don't make time for yourself, it's very easy to burn out."
Edwards also suggests that students should think about what type of job they hope to have after school.
"If you want a job in academia, make sure you're working on research projects and attempting to get them published. If you want a job in industry, take the opportunities offered to network through school and complete informational interviews."
Edwards' last piece of advice would be to attend conferences. "No matter what type of job you
ultimately want, go to conferences. Conferences are great opportunities learn about where research is heading in your areas of interest, to meet others with similar interests as well as to make connections which can help you get a job."