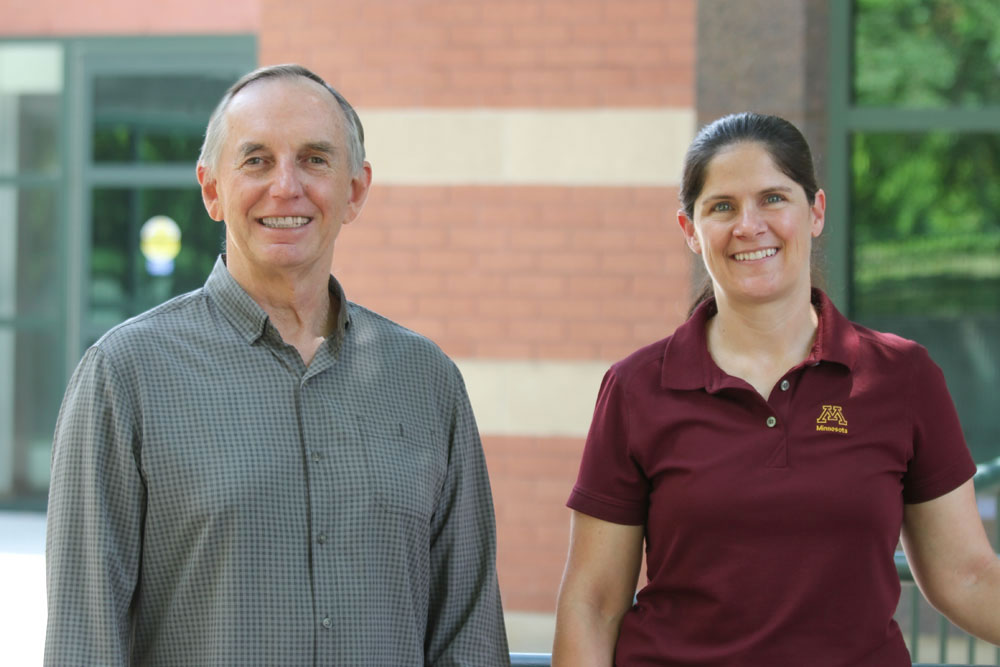 Higher expectations for the inclusion of people with disabilities in the social fabric of their communities are today being driven in large part by people with disabilities themselves, who are participating directly in disability research, a new review by Institute on Community Integration researchers shows.
Roger Stancliffe and Sarah Hall published "Social inclusion of adults with intellectual and developmental disabilities: Toward belonging" in the International Review of Research in Developmental Disabilities. The invited review is being made available for free until September 7 by the publisher, Elsevier.
The authors review participation in mainstream community activities across the lifespan of people with disabilities. Various settings and types of social relationships, including LGBTQ+ relationships and online dating are discussed. Aging, end-of-life issues, and retirement relationships are also included.
"The understanding and conceptualization of social inclusion has become richer in recent years, largely thanks to the involvement of people with disabilities in the research," said Stancliffe, who is also professor emeritus at the University of Sydney. "We're getting away from superficial participation headcounts and measuring time spent in certain environments, and we're paying more attention to the subjective experience and whether people with disabilities actually feel connected, welcome, and safe enough to develop relationships in these settings. It's no longer just about wandering through a shopping mall and passing a parade of strangers."
Hall has devoted much of her career to studying and developing solutions to improve family and other relationships important to people with disabilities.
"We're often so siloed in our disability topic areas of employment, education, transition, and others," she said. "This project allowed us to group the different aspects of community life and show social inclusion as one, all-encompassing issue."
Hall, who has an older brother with disabilities, focused on relationships from the very beginning of her research career.
"What I thought was important to my brother was having relationships and being part of the community, the church, volunteer efforts; to be seen as someone who is worthy of being a companion. Community participation is important, but it's the reciprocal relationships that make the participation meaningful and lead to true belonging."
Many schools, churches, and community organizations are adopting more progressive attitudes about inclusion, Hall and Stancliffe said, but it is not universal.
"Different organizations are at different places on this, and there are some that still find it difficult to embrace change," Hall said. "For some, accommodations are a cost issue, others just don't like change. We know a lot of churches believe they are very welcoming, and they don't even know how some of their practices can be off-putting to people with disabilities."
The review includes a section on virtual relationships and online safety.
"One study participant said she knew about the risks of meeting an online friend for the first time in person, but the risk of being lonely was even worse, so she was willing to take the risk," Hall said.
Another critical area of life where social inclusion is often overlooked is in employment, Stancliffe said.
"Getting proper jobs and keeping them are very difficult tasks for people with disabilities, so all the attention is on that issue. Social experiences at work get surprisingly little attention, but are a really important part of our work lives, as many of us learned through the pandemic. It's a real blind spot in the research."
Even brief, congenial social encounters can play an important role in boosting an individual's sense of social inclusion, the researchers noted.
"Quick interactions with a bus driver, shopkeeper, or someone you come across in the park can be quite important," Stancliffe said. "If a person is supported to interact with people in these situations, once thought to be too minor to bother with, it can really help."
And those quick encounters don't have to turn into anything more, Hall said.
"It's OK to just want an occasional hello and a brief chat," she said.
To develop the deeper relationships that most people want as well, providing access to mainstream community groups with shared interests is critical, the research showed.
Thinking about funerals and end-of-life issues is also important for understanding social inclusion for people with disabilities, Stancliffe said.
"Even though people with intellectual and developmental disabilities are surrounded by death and will experience the death of friends and loved ones likely many times, sadly many are not told their loved ones are sick, or they are even kept from funerals with no opportunity to say goodbye. It's one of life's most important social events, and keeping the grieving and the memory-sharing from people with disabilities is a profound form of social exclusion."
However well-intentioned the people are who keep their family members with disabilities away from these situations, they are really hurting them, Hall said.
"In all of these social situations, the one thing that sticks out to me as a family member of someone with disabilities is the fear for our loved ones," she said. "I understand that fear, but we need to learn that by trying to forbid relationships or hide information, we are making our loved ones less safe because they won't be equipped to develop good relationships."