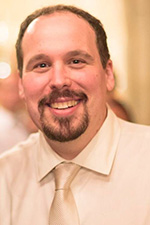 Glenn Roisman, PhD, a Distinguished McKnight University Professor in the Institute of Child Development (ICD), has been appointed the next editor of Child Development, the flagship publication of the Society for Research in Child Development (SRCD).
Roisman will begin reviewing new manuscripts as incoming editor on July 1, 2019, and will transition to the role of editor-in-chief on January 1, 2021. He will succeed Cynthia García Coll, PhD, who has served as editor for the last six years.
Roisman is an internationally recognized leader in the study of how early relationships impact social, cognitive, and biological development across the lifespan. He has received early career awards from SRCD and Division 7 (Developmental Psychology) of the American Psychological Association (APA), and is currently a fellow of the APA and the Association for Psychological Science. He has served as an associate editor for several journals, including Child Development and Psychological Bulletin.
"Our members are fortunate that Dr. Roisman has agreed to serve as Editor of our flagship journal. He has assembled an outstanding and diverse team of international scholars who will carry forward the high standards of our past editors" said SRCD President Kenneth Dodge, PhD.
"I am honored to have the opportunity to serve the Society in this important role and look forward to advancing the state of the science of child development together with the truly remarkable scholars who make up the next Editorial Board," Roisman said.