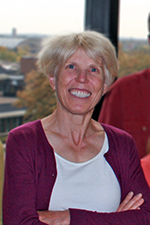 Department of Family Social Science professor Martha Rueter was interviewed on the Creating a Family radio show, for the episode "How Are Donor Conceived Families and Kids Doing?" Listen to the show on their website.
Rueter is the Principal Investigator for the Family Communication Project, a study aimed at understanding how parent-child communication operates differently across different types of families, including traditional families, families with adopted children, and families formed through assisted reproductive technologies (ART).
Read more about Professor Rueter's research interests on her profile page, and learn more about the Family Communications Project on their website.