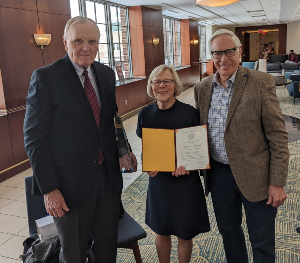 Department of Educational Psychology Professor Emeritus Sandra (Sandy) Christenson is the recipient of the University's prestigious Outstanding Achievement Award. This award is conferred only on graduates, or former students of the University, who have attained unusual distinction in their chosen fields or professions or in public service, and who have demonstrated outstanding achievement and leadership on a community, state, national, or international level.
Christenson is well recognized for her research and leadership in the field of school psychology. Her research on family-school partnerships, student engagement, dropout prevention, and related interventions has had a significant impact on middle and high school students with disabilities and related risk factors at the local, state, national and international levels. Check & Connect (C&C) the student engagement and dropout prevention intervention, is one of her key accomplishments. She led the research and development of the C&C intervention with colleagues at the Institute on Community Integration (ICI).
The broad implementation of C&C is highly impressive. C&C with staff support from ICI is being implemented nationwide and internationally. C&C training has been provided in all 50 states, with nine states (Florida, Georgia, Iowa, Minnesota, Montana, North Carolina, Pennsylvania, South Dakota, and Utah) currently scaling up the model statewide. Overall, C&C is being implemented in more than 1,000 elementary, middle, or high schools, with 455 schools utilizing the C&C app as a tool to support implementation. More than 300 certified C&C trainers and coaches are in place across the U.S. and internationally to support local implementation. More than 20,000 professionals have received training to become C&C mentors or coordinators. In addition to its traditional application in K-12 schools, C&C has also been adapted to support students transitioning out of foster care (e.g., Utah statewide initiative), in managing the school and community reentry of youth from juvenile corrections facilities (e.g., Ramsey County Community Corrections, MN), and to support students at the community college level (e.g., Central Lakes College, MN). C&C is one of the nation's most widely recognized interventions, benefiting thousands of students, families, and professionals.