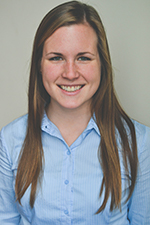 Abby Whalen, counseling and student personnel psychology alumni, M.A. '17, never knew what she wanted to be when she grew up.
"I actually studied chemistry in my undergrad, but didn't have a clear idea of how I wanted to use that upon graduation."
Whalen spent two years doing volunteer work—one abroad in England and one with AmeriCorps at a school in Minneapolis.
"I was always interested in the field of education, and my experience with AmeriCorps really inspired me to pursue school counseling," "I loved making connections with students, figuring out how the school could better meet the needs of all learners, and ensuring students had the support they needed to be successful."
It was Whalen's drive to help students that led her to the counseling and student personnel psychology graduate program–where she says her classmates were often her best teachers.
"I learned so much from them. Whether it was studying together, collaborating on a group project, or spending time decompressing after class, my classmates really helped me through my two years in school."
Today, Whalen is an elementary school counselor for St. Paul Public Schools (SPPS). In this position she teaches classroom lessons, works with small groups of students, and also meets with students individually. Her work focuses on personal, social, academic, and career development of each student.
Much like she does with her students in SPPS, Whalen shares advice to future CSPP students: "Really get to know your advisors, professors, and internship supervisors. As a student,  you are surrounded by so many gifted professionals which provides many opportunities to learn and grow."
"These connections were also very beneficial for me in getting interviews and job offers as I entered the workforce."