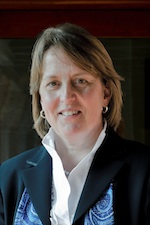 Professor Diane Wiese-Bjornstal has been named interim director of the School of Kinesiology. A national search for a new director will commence soon.
Wiese-Bjornstal has been on the faculty of the school for the past 35 years. During her tenure, she has served as the director of graduate studies several times and as associate director for the previous six years. Most recently, she coordinated the creation of the School of Kinesiology's bylaws and new faculty mentoring guidelines for the school.
She also serves as the director of the Sports Medicine Psychology Laboratory and the Physical Activity and Sport Science Laboratory. She is also an affiliated scholar with the Tucker Center for Research on Girls & Women in Sport.
This past July, she was awarded the University of Minnesota's Unit Service Award in recognition of her many contributions to the school.
Wiese-Bjornstal holds a BA from Luther College, an MS from Springfield College, and a PhD from the University of Oregon, Eugene, all with a major in physical education. Her areas of expertise include sports medicine psychology, sport injury psychology, youth sport science, and sport psychology.
"Our faculty, staff, and students are very excited about the opportunities of the upcoming academic year, and it is a privilege for me to serve in this interim director role," she says. "Along with our national search for a new director of the school, we are seeking three new tenure-track faculty hires in cutting-edge areas of our field. Our staff are highly efficient and professional and have been incredibly supportive of me during this transition. We are all honored to work with our students in three undergraduate majors and six graduate degree programs."