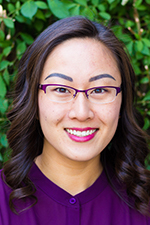 Throughout undergrad, Joo Ree Chu, school psychology alumni, MA '12, led a mentoring program with Korean college students and local Korean adoptees. She majored in psychology and worked for a nonprofit mental health organization upon graduating. "Through that experience, it became clear to me that my true passion lies in working with youth," she says.
Chu began researching school psychology programs. "The University of Minnesota seemed to have the longest and most prestigious history of training practitioners and researchers." She continues, "My requests for informational interviews with a current student and field placement coordinator (who later became my advisor) were quickly fulfilled, and the rest is history!"
The most challenging part of graduate school for Chu was finding and maintaining a manageable work/life balance but she says, "With sustained effort, it can be done!" To do this, Chu made a "1 fun activity a week" rule which helped her maintain relationships and connections to her community outside of school.
Currently, Chu is a school psychologist for a school in Denver, Colorado where she works directly supporting students as well as consulting with parents and teachers.
After five years in the field of school psychology, Chu says she is inspired to make an even greater impact in schools and currently is pursuing her principal license through the administrative leadership and policy studies program at the University of Colorado.