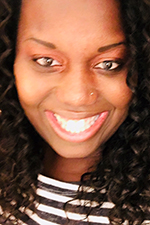 GinaMarie Theesfeld (MEd '16) started her career in off in the fields of criminal justice and law, but saw an opportunity to help kids in the field of teaching.
Theesfeld has always been passionate about children who are diagnosed with emotional and behavioral disorders—especially the overrepresentation of African American males with the disorder.
"I wanted to reach the kids before they were a part of the system, so I started working in schools," she says. "I knew I wanted to work and understand children with EBD and how to best support them getting out of federal setting 3 (FS3) classrooms and into mainstream environments."
Theesfeld was nominated and received the celebration of teachers award from Minneapolis Public Schools for the 2018 school year in May. This award celebrates teachers who have highly effective instructional practices that inspire students and colleagues towards excellence. In addition, she moved five kids from her caseload from FS3 to FS2 and three from FS3 to FS1 with her special education assistant (SEA) JuJuan UzziYahu Bayn Yahudah Davis.
"I did all of this amazing work with the guidance of my amazing leaders," she says.
Theesfeld received her MEd in special education with an emphasis in emotional and behavioral disorders as a single mother working full time.
"This was not easy to do as a single mother." She continues, "It was humbling having my mom (Marilyn Theesfeld) and alumni Mike and his wife Rachel Verdoorn help me with my son. My entire cohort and professors were all very kind and made it equitable for single moms to obtain the dream of getting their masters."
Theesfeld encourages students to, "take the time to build relationships with your cohort and your professors."
Currently, Theesfeld is changing the lives of EBD students as a special education teacher for Minneapolis Public Schools.
Outside of work, Theesfeld enjoys spending time with her son, Isaiah, watching him play hockey, traveling, spending time with family, and going to church. She plans to return to the University of Minnesota for her doctorate.