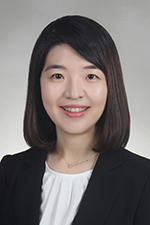 Pyung-Gang Jung, alumni of the special education program, PhD '15, is a lecturer in the Department of Special Education at Ewha Womans University in Seoul, Republic of Korea. Jung teaches undergraduate and graduate students, focusing on courses about education students with learning disabilities and mild disabilities. She also does research on developing reading writing intervention programs and measures for Korean students who are struggling.
Jung received her undergraduate degree in special education and in that became interested in students' learning and how to teach them effectively. "I decided to study abroad to learn more about it." she says.
Jung found out about the University of Minnesota by meeting with a former student to hear more about the special education program. "I would say meeting with her changed my path," Jung says.
"Every one of my work and experiences at the University of Minnesota was very valuable and meaningful to me," she says. "One of them was to do research on data-based individualization project with Dr. Kristen McMaster and my colleagues." In this research project, Jung was able to be exposed to a variety of areas including assessments, research-based intervention, data-based instructional decisions, and professional development.
Jung uses what she learned at the University of Minnesota in her position as a lecturer daily. Not only in teaching students, but in research as well. In a recent project, Jung was recently a part of a research project that was very similar to a project she was involved with here at the U of M. "I was able to provide a lot of advice through every step of research and thankfully was also able to get advice from my former doctoral adviser, Dr. Kristen McMaster."
When asked about her overall graduate experience Jung says, "the smiles of fellow students, improvements in spelling, efforts of my tutors, encouragement from colleagues and advisor during my time at the University of Minnesota still remain as an unforgettable memory to me."