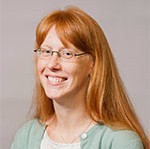 Bright sunlight streams into her office. Plants and family photos line the windowsill while books and binders fill the shelves. Dr. Billington is diligently typing at her computer but just above her screen is a beautiful view of the St. Paul Campus. She takes a second to look up and daydream of her next chance to mentor students in their own classrooms.
Dr. Billington is a former science education student of the University of Minnesota under the guidance of Dr. Fred Finley. While teaching biology in a local high school, Dr. Finley contacted Barbara to fill a mentorship position for science education student teachers back at her Alma matter. It didn't take long for Dr. Billington to enjoy her new position.
"What I have found so inspirational about working at the University is the students I work with"- Dr.  Billington
Along with Dr. Fred Finley, Gillian Roehrig has been a big influence for Dr. Billington. Barbara is also involved in broader higher education circles to learn what is occurring in schools like Hamline, Bethel or St. Catherine's. Dr. Billington is happy to learn that the STEM Education Center program is a unique and strong partner within the community. She is proud of the space she works in and appreciates the conversations and collaborations that the STEM Education Center supports.
"It is not just the space, but the concept of the center. It is a great place to work and to come to"- Dr. Billington.
Besides her academic work, Dr. Billington is collaborating on a new three-year National Science Foundation grant with Twin Cities Public Television. This project focuses on providing professional development to teachers in career and technical education. Barbara Billington is also working on a second grant that is developing online games focused on STEM education.
Like many of her colleagues, Dr. Billington's hopes and concerns for the future of STEM Education are grand and challenging. Her personal philosophy about the future of STEM Education involves major systemic and political changes as well as a coherent understanding of what STEM Education means in practice in order to truly teach integrated STEM Education. However, Dr. Billington is enthusiastic. Her partnerships across University departments, conversations with fellow colleagues, and continued fieldwork with student teachers makes her excited to continue advancing the field of STEM Education.
Dr. Billington's optimism is encouraging and contagious. She is always a positive presence in the STEM Education Center and a delight to get to know. I was a surprise to learn that Dr. Billington is a published poet after studying abroad in Australia through an interdisciplinary English and marine biology program.
The STEM Education Center is lucky to have such a valuable colleague whose passion for mentorship is so inspiring.