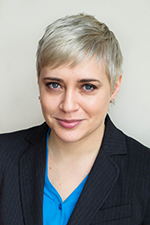 The first in her extended family to receive a PhD, Lynn Edwards was determined to go her own way.
Growing up in a small, rural community of Minnesota, Lynn Edwards is one of seven children. "Going to college wasn't necessarily valued and wasn't something my parents made me consider," she recalls.
As an undergrad, Edwards recalls her psychology department taking a trip to visit the school psychology program at the University of Minnesota. "We talked with a panel of current school psychology students"
This initial visit sparked Edward's interest in the U of M's school psychology program.
After she received her undergraduate degree in psychology, Edwards spent a year supporting students with disabilities as a paraprofessional in a high school. "Based on that experience I decided I'd like to pursue a career in school psychology," Edwards says.
Taking the risk to pursue her higher education has paid off. A 2016 alumni of the school psychology program, Edwards currently is a post-doctoral research associate for the FAST lab in the Department of Educational Psychology where she leads the effort to develop and conduct research for the Personalized System of Instruction (PSI) project. PSI is a computerized cloud-based instructional software program currently being developed that will streamline the use of assessment to continuously inform instruction.
Edwards also works part-time as a school psychologist at the Mastery Charter School in Minneapolis.
"One of the most exciting aspects of my work while in the program was working on my thesis and dissertation which focused on identifying causal mechanisms of interventions," Edwards says. "I get to continue that work with what I'm doing now."
In working in schools as well as doing research, Edwards has a unique perspective. "I see myself as leading the charge to bridge the gap between research and practice," she says. "It's important to move the field ahead by applying what we learn through our research to practice by working alongside educators and practitioners to discover what works."
Her advice to graduate students: "Make sure to put yourself out there and connect with the faculty and your peers with what you want to do, whether that be research, practice, teaching, or some combination of the three."
"I don't have everything figured out about who I am now, but I do know I am extremely proud to continue on a transformative path.," Edwards says.
"At times the path can be uncomfortable but it's in this discomfort and through a continuous self-reflective process that I have found opportunities to challenge and improve myself."