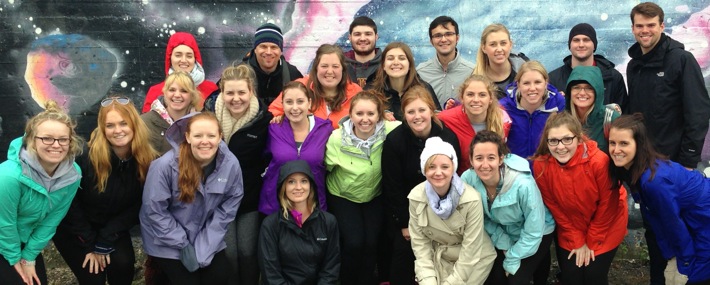 According to student development research conducted by psychologist Roy Heath, "reasonable adventurers" are college students "who know how to be alive."
During a 3-week intensive global seminar titled Examining the 'Good Life' In Denmark and Sweden, Mike Stebleton (PsTL) intentionally challenged 24 UMN students to become reasonable adventurers. "One of my goals was to create engaging and active experiential learning situations where students felt somewhat uncomfortable yet still supported in the process," says Stebleton.
Building resiliency and tolerance of ambiguity
To introduce the concept, Stebleton arranged a visit to the micro-nation of Ladonia and the Kullen National Park in southern Sweden. Here, the group navigated the steep, rocky climb to the Nimis and Arx sculptures created by controversial Swedish artist Lars Vilks. In this 1-square kilometer nation, many students climbed the towers and scaled impressive shoreline cliffs, while intellectually the class discussed issues of collective identity, nation building, and immigration issues in Scandinavia. The challenge of the hike and immersion into an unfamiliar environment helped foster resiliency and tolerance of ambiguity, two of Stebleton's developmental outcomes for the seminar.
Ladonia set the stage for Stebleton to advance students' ability to "be alive" during their Nordic experience with a Reasonable Adventurer Group Project. Working in small groups, students were required to explore the good life in community through an activity that pushed boundaries of comfort, provided cultural immersion and integrated academic concepts from the seminar's curriculum. The following paragraphs highlight a few student reflections from the assignment, edited for clarity and length.
Examining the health care system following a visit to Bispebjerb Hospital
In Denmark where everyone feels safe and healthy because they know that they have a hospital to go to or a pharmacy to receive treatments is a calming thought so people do not mind paying taxes. 
Learning about the Danish healthcare system makes me wonder if paying higher taxes is really a bad thing if it makes sure that I, along with my fellow citizens, are receiving the help that we need. If everyone has one less thing on their plate to worry about that means that they can continue to take care of their children or put more effort into working. Additionally, making sure that everyone is taken care of can contribute to that "good" life that the Danes seem to have mastered; everyone can feel safe, content, and happy to know that everyone is in safe keeping.
Reflecting on consumption at Ølfestival 2015, a Beer Brewers Festival
Nowhere at this festival was there evidence of excessive drinking; we attended the event for several hours and were there long enough for raucous attendants to become evident, but none surfaced.
It appears that part of why there is little to no alcohol stigma in Denmark is because the Danes have the capacity to responsibly manage consumption. This stands in contrast to America, where alcohol abuse is a clear and obvious issue and many individuals begin drinking before the legal drinking age with no education regarding drinking culture. I believe that the Danish tradition of drinking with the family from an early age helps educate and protect Danish youths from the dangers of alcohol, which makes drinking a safer and more enjoyable hobby. This could clearly affect Danish happiness; responsible drinking means less of the many negative externalities associated with excessive drinking.
Observing the roles of film and television in Denmark and Sweden
The two primary lessons I took away from my visits to the Danish Film Institute were the importance of film in culture and the difficulty of being in a place where you cannot speak the language. I had never before thought of film or TV as an extremely important aspect of culture. However, as the Danish Film Institute underscores, these visual arts are central to modern culture and are experienced every day. 
During our visit to Sveriges Television we saw the great importance placed on national TV production, even given its great expense. Compared to the American TV industry, the Swedish TV industry has both advantages and disadvantages. The unbiased presentation of news is very impressive; however, this can come at the cost of limited freedom of speech. Also, American TV is so much bigger because it is founded in the free market, whereas Swedish TV relies on taxation to support itself. Of course, the corporate ownership of American TV can result in a bias. 
Engaged learning and student development in all time zones
For many students, this trip was their first experience outside of North America, a reasonable adventure in itself. However, Stebleton believes passports are not required to embrace the spirit of a reasonable adventurer; the magic can happen right on campus.  Reasonable adventurers are students who take calculated risks and approach their learning with a sense of energy, risk and full investment.
"Higher education professionals, especially student affairs practitioners and faculty, can foster the traits inherent in reasonable adventurers in a wide range of teaching and learning contexts," says Stebleton.
"We are in a unique position to co-create learning environments where students have the opportunity to engage in active learning and become reasonable adventurers in this reciprocal and collaborative process."