Born Deaf, Aaron Waheed is becoming a teacher to help others in the Deaf community realize their full potential.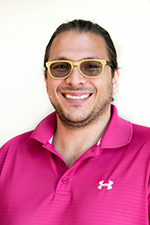 "I chose this path [becoming a Deaf and Hard of Hearing (DHH) teacher] because I driven to understand issues that impact the lives of the people in the Deaf community and what I can do to contribute—especially towards Deaf children's education," says Aaron Waheed, a special education DHH MEd and licensure student.
Waheed's goal: to see more Deaf leaders, teachers, transformative policy-makers, and administrators serve the Deaf community. He sees teaching as a way for him to contribute and use his leadership skills.
Leadership through education
"I researched what roles education leaders play in delivering such transformative services and how an effective administration could supplant these efforts across entire communities.," he explains.
"I realized that my leadership assets needed to be reinforced with teaching skills before I could formulate broad-based policies at an administrative level to reach and benefit large segments of the deaf community."
Waheed found a program to help him meet his goals in the Department of Educational Psychology, "In evaluating the program, both the teaching and administrative components were present and spot on for my area of focus."
Rising to the challenge
When asked about his experience within the program he says, "I thoroughly enjoy participating in this program. The most wonderful part is the learning experience and working with my fellow student group."
Waheed notes the difficulty of the program but insists it's worth the hard work. He attributes his success so far to his "marvelous" interpreters and notetakers as well as his professors and classmates.
His advice to future DHH students is similar to what he'll soon share with his own: "Be prepared to be challenged, expect high standards, expect a quality education, and expect to work very hard."