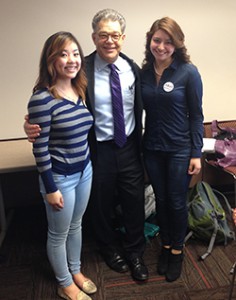 Two TRIO Upward Bound students met Friday with Sen. Al Franken and University President Eric Kaler, as part of a college affordability roundtable. Erika Romero-Paguay, TRIO Upward Bound alum and current TRIO Student Support Services student, and TRIO Upward Bound Edison high school senior Salina Vang expressed support for Franken's Affordable College Textbook Act and his focus on holding institutions accountable for streamlining language around financial aid awards.
Romero-Paguay (pictured right) immigrated to the U.S. in 2011. She described how TRIO programs were instrumental in helping her navigate the college admissions and financial aid process. She also met Sen. Franken as a participant in the 2013 Council for Opportunity in Education (COE) National Student Leadership Congress.
Vang (pictured left) is the first in her family of 11 to pursue higher education. Vang will decide soon where she will go to college, and says much of her final decision will be based on how much aid she's awarded. She thanked TRIO for guiding her through the college-readiness process.
In addition to Franken's focus on college affordability, he reiterated the importance of TRIO programming and direct support of students. He suggested that Romero-Paguay and Vang be called upon to testify on the ways in which TRIO impacts student achievement and collegiate success.