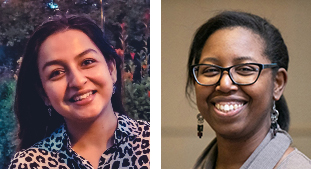 CEHD PhD students Sheetal Digari (left) and Ashley Watson are recipients of the John DePodesta Leadership Fellowship. The fellowship provides graduate students in business, public policy, sociology, or education the opportunity to co-design or launch a new venture in partnership with existing educational organizations that seek to improve the quality of postsecondary education.
Digari is a third-year PhD student in Comparative and International Development Education (CIDE) within the Department of Organizational Leadership, Policy, and Development (OLPD). For her project, she plans to develop a multicultural orientation module that will provide a supportive learning environment and experience for students of all backgrounds and help students smoothly transition into careers.
Watson is a fifth-year PhD student in OLPD's CIDE program. Her project will address persistently high dropout rates in higher education by designing interventions during the first two pivotal years. Read more.