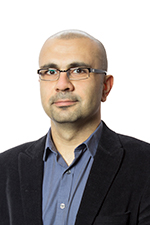 After receiving his bachelors in elementary education in Turkey, Okan Bulut became interested in gaining a better understanding about the ways students are evaluated.
"I wanted to expand my knowledge of testing and assessment methods in education," he recalls.
Bulut applied for a and received a graduate scholarship given by the Ministry of National Education in Turkey and decided to pursue a degree abroad. Bulut still remembers his search for the right graduate program.
"I came across the quantitative methods in education (QME) program at the University of Minnesota. After I reviewed the QME website carefully, I was very impressed with the program and the faculty members' areas of expertise. In addition, the research and internship opportunities for graduate students seemed excellent."
Bulut applied and found himself in Minneapolis a few weeks later.
Today, Bulut is an alumni of the QME program, PhD '13, and an associate professor in the Department of Educational Psychology at the Faculty of Education, University of Alberta. In his position, Bulut teaches undergraduate and graduate level courses on educational measurement, psychometrics, and statistics. He also conducts research in the same area. In addition, Bulut is a member of the Minnesota Youth Development Research Group (founded by Dr. Michael Rodriguez), where he has gained significant research experience. 
When asked about his studies in the Department of Educational Psychology Bulut says, "One of the greatest opportunities at the University of Minnesota was to work with faculty members with different areas of expertise."
He continues, "Having access to a variety of courses taught by great instructors helped me expand my knowledge in quantitative methods and educational measurement."
Bulut's advice to students considering applying for the program: "Check out various courses offered by QME and other programs to consider what you might research. Start exploring different research projects and internship opportunities to put your knowledge and skills into practice."