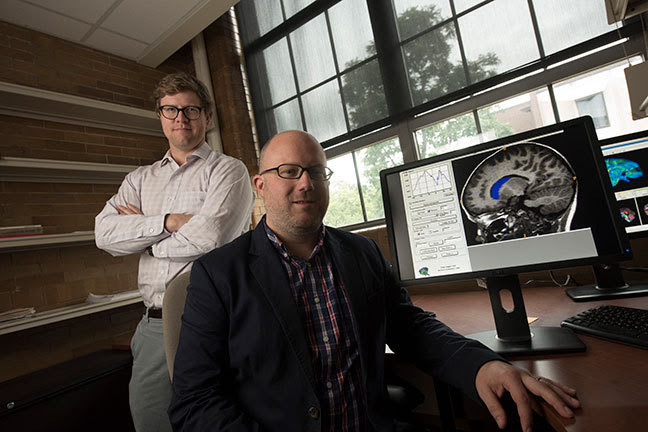 The University of Minnesota announced that it has received a $3.7 million grant across five years from the National Institutes of Health (NIH) for autism research. This grant comes on the heels of a $9.5 million NIH grant awarded to the Infant Brain Imaging Study (IBIS) Network that was announced earlier, in which the University of Minnesota is a data collection site. The research supported by both grants could lead to earlier, more accurate diagnosis and better tailored interventions.
The first grant aims to develop population-based risk profiles that could predict whether a child will develop autism spectrum disorder (ASD) or related conditions later in childhood. Researchers will collect behavioral data and brain scans from children at various points throughout early development, beginning at 18 months of age and ending at three years of age.
Approximately one in 42 school-aged children in Minnesota and one in 59 nationally has a diagnosis of ASD. Children who have older siblings with autism are at an even higher risk of developing the condition. Using current methods, ASD is difficult to diagnose early, as behavioral signs, like social communication deficits or restricted and repetitive behaviors, aren't usually observable until at least age two. The average age of diagnosis is about five years old in Minnesota and about four years old nationally, meaning children typically don't receive interventions until later in their development, after the brain becomes less plastic or malleable.
"The average age of ASD diagnosis is older in Minnesota than in other parts of the country," said Jed Elison, Ph.D., an associate professor of child psychology in the College of Education and Human Development (CEHD) and of pediatrics in the Medical School, who will co-lead both grants at the University of Minnesota. "We owe it to Minnesotans to do better. With this research, we're taking action."
The first grant will bring together researchers from multiple units at the university, including the Institute of Child Development, Department of Educational Psychology and Institute on Community Integration — all in CEHD — and the Departments of Pediatrics and Psychiatry in the Medical School, the College of Liberal Arts, and the College of Science and Engineering.
"The reason why early diagnosis is so important is that earlier diagnoses lead to earlier intervention, and early intensive interventions have been shown to improve outcomes," said Suma Jacob, M.D., Ph.D., associate professor of psychiatry at the University of Minnesota Medical School and co-lead of the UMN-specific study.
As for the $9.5 million grant, Elison and Jason Wolff, Ph.D., a McKnight Presidential Fellow and an assistant professor of educational psychology in CEHD, will serve as co-investigators of the grant awarded to the IBIS Network and they will spearhead efforts in Minnesota. The grant — led by Washington University School of Medicine in St. Louis and the University of North Carolina-Chapel Hill — includes the University of Minnesota, the University of Washington, and the Children's Hospital of Philadelphia as data collection sites. The project is recruiting families from Minnesota and across the country and aims to develop a clinical MRI test for children at high risk for autism that would be able to predict a diagnosis of the condition before age one. To develop the test, researchers will compare the predictive ability of MRI measures with behavioral measures of autism.
"We hope to move beyond a diagnosis of ASD at age two years or later to using brain imaging in infants to predict later cognition and behavior at the individual level," said Wolff. "Our goal is to develop and implement individualized interventions for infants at the highest risk for autism."
Expanding research scope
The new grants build on previous research conducted by Elison, Wolff, and the IBIS Network that suggested that patterns of brain activity in high-risk, 6-month-old babies may accurately predict which of them will develop ASD at age two.
"Autism and developmental disabilities are top research priorities for our college because they are aligned with our vision to increase opportunities for all individuals to have a successful start in life and to foster healthy human development," said University of Minnesota CEHD Dean Jean Quam, Ph.D. "That's why we recently awarded Jason and Jed a $200,000 Developmental Project Award to develop a pre-symptomatic intervention for infants at high risk for developing autism, and to grow interdisciplinary partnerships and extend their current federally funded efforts."
To learn more about the IBIS Network and how to participate in autism-related research at the University of Minnesota, visit the IBIS Network website or email ibis@umn.edu.