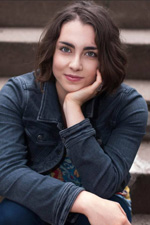 Elisheva Savvateev, an undergraduate research assistant in the Affordance Perception-Action Laboratory (APAL), has received a U of M Undergraduate Research Opportunities Program (UROP) award. Thomas Stoffregen, Ph. D., professor in the School of Kinesiology, supervises her project, "The driver passenger effect in head mounted virtual reality."
The UROP Award offers financial awards to full-time undergraduates for quality research, scholarly, or creative projects that are judged to contribute to the student's academic development and which are undertaken in collaboration with a faculty sponsor.
Savvateev is majoring in kinesiology and minoring in statistics.