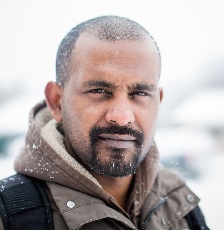 Solen Feyissa, C&I Ph.D. candidate in Learning Technologies, has been awarded an International Thesis Research Travel Grant by the University of Minnesota Graduate School to support his dissertation work in Ethiopia.
Feyissa's dissertation study, "The Role of Information Communication Technologies within Ethiopian Education," focuses on real-life uses of existing Information Communication Technologies (ICTs) for learning purposes. It examines how secondary school students in Ethiopia use ICTs for learning and how social contexts influence their ICT use in educational contexts.
"It is exciting times to be doing this research in Ethiopia because there is a great deal of change occurring there," says Feyissa. "I am also excited about the field work involved in this project."
The International Thesis Research Travel Grant provides travel support for University of Minnesota graduate students conducting short-term and extended research and/or field work in countries outside the United States. The grant is funded by the University of Minnesota to support the internationalization of the University through research and outreach.
To learn more about the Ph.D. in the Learning Technologies program area, visit the Learning Technologies Ph.D. program page.