The Physical Activity Social and Behavioral Sciences (PASBS) area in the School of Kinesiology was well-represented by several current and former graduate students at the annual meeting of the North American Society for the Psychology of Sport and Physical Activity (NASPSPA), held in New Orleans on June 12-16.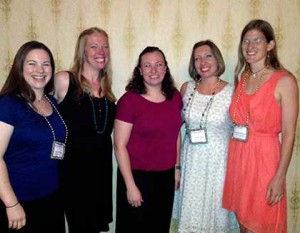 From left to right: Alison Phillips, Nicole Bolter (PhD, 2010), Andrea Stark, Lindsay Kipp (PhD, 2012), and Amanda Williams.
Alison Phillips presented on her study of adolescents' achievement motivation in sport, music, and reading domains; Andrea Stark presented her thesis research on social psychological climate and well-being among adolescent dancers; Lindsay Kipp gave a presentation on her study of social influences and psychological well-being among adolescent gymnasts; and Amanda Williams gave a presentation on her research examining predictors of commitment to adult recreational soccer participation.

Professor Maureen Weiss, Ph.D., is currently doctoral advisor to Alison Phillips and Andrea Stark, and was doctoral advisor to Nicole Bolter (now an assistant professor at Boise State University) and Lindsay Kipp (now an assistant professor at University of Kentucky). Associate Professor Beth Lewis, Ph.D., is currently doctoral advisor to Amanda Williams.