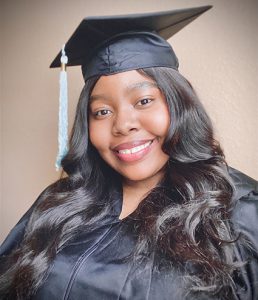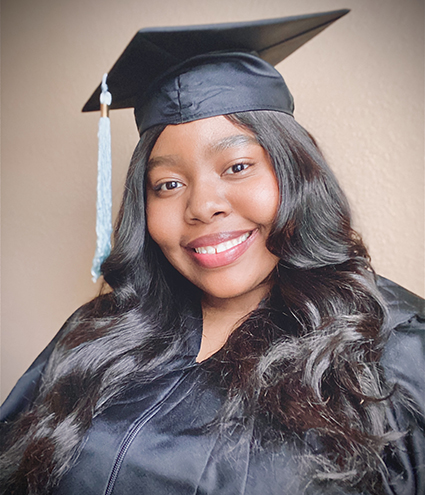 Dan-neya Yancey, a 2020 Family Social Science graduate, shares some tips for incoming and returning undergraduate students. Dan-neya highlights the importance of taking risks, making connections, and being flexible. As a student, Dan-neya was awarded a University of Minnesota President's Student Leadership and Service Award and was the 2020 CEHD virtual commencement undergraduate speaker.
Briefly describe your plans for post-graduation/current employer and position and why you are pursuing that.
This summer I am interning with The Brooklyn Bridge Alliance for Youth (BBAY) which "…strives to increase high school graduation rates, create pathways to college and career, and ensure the safety and well-being for youth in the Brooklyns" (Brooklyn Center and Brooklyn Park). I co-lead the Youth Data Squad. We are doing research on the impacts that COVID-19 and other current issues have on youth and young adults living in the Brooklyns.
I pursued this opportunity because this organization and I go way back. As a previous resident of Brooklyn Center and graduate of Brooklyn Center High School, I have benefited greatly from the programs they offer. Another reason I pursued this internship is because I want to expand my network, gain experience in business, and focus on doing community engagement work.
What were some of the informational resources on campus you took advantage of?
Besides my college advisor and peer mentor, I did my own research on campus events and to find information on just about anything. Google what you want to learn more about and put "umn.edu" behind it. It works like a charm!
As for building your network, you may want to attend some open houses to learn about campus resources. My personal favorite open house is at Appleby Hall. They house some of the best resources, from the Student Counseling Center, the Aurora Center, the Writing Center, the Women's Center, President's Emerging Scholars (PES), CLA PES, MCAE and more.
Were you involved in any student groups/organizations? If so, what are some key things you learned from your experience?
Between my experience as mentor with the President's Emerging Scholars program, a bandana carrier for The Green Bandana Project, a Peer$ financial literacy mentor, and being a student leader on the campus-wide Undergraduate Advisory Board, I have learned valuable skills and key lessons:
Your voice matters. As a student on campus, you are going to experience campus life differently from the school's administration, your instructors, and some of your peers. So, don't just get involved but be the change you want to see on your campus.
Transparency is key. Although being involved in campus organizations is important and a major highlight of being an undergraduate student, there is something to be said about knowing your own capacity to take on more and to lessen your load as well. Be transparent about the things happening in your life and how your support system can best help you during the stressful times.
Do it. Yes, even when you're scared! I've grown outside of my comfort zone since I entered the University and earned my degree. I acknowledged my struggles internally and the external barriers but learned to focus on what I can control. Sometimes the only person in your way is you.
Was there anything that surprised you about being a student at the U of M and CEHD?
Hemant Persaud, a good friend and alum of the U of M and President's Emerging Scholars, once reminded me of this important saying, "it is easy to make a big campus feel small but it is harder to make a small campus feel big."
Being enrolled in CEHD and the University, I was surprised at the amount of opportunities that were available to me. I was nervous that I would get lost in the sea of people and would not be able to find a community of friends and the support system I knew I needed. However, the exact opposite happened! I took the chance and I engaged with my peers and the professional staff. I became less overwhelmed and more curious about what I could do to leave my mark on both my college community and the University.
I found a few places where I felt a sense of belonging and those same spaces are where I have been challenged, where I've grown, learned, and have also been supported through all the ups and downs of life as a college student.
What advice do you have for undergraduate students for this upcoming academic year?
Dive in, it's all one big balancing act! To create the undergraduate experience you want to have it is all about starting early and putting yourself out there. Yes, you're going to wear different hats as a student, family member, friend, roommate, etc. but don't forget to enjoy those fun moments.
Meet with your advisor(s) and don't be afraid to advocate for yourself. They are there to help you navigate the stress of scheduling each semester. So come with questions. It also doesn't hurt to do your own research on courses before setting up a meeting. They are also a fantastic resource when it comes connecting you with opportunities they hear about around campus.
It's okay, plans can change. Having expectations needs to be balanced with flexibility. Be intentional about the time you have and how you are going to make the most of the resources around you to fulfill your goals.
Manage your mental health and your physical health. Everyone should take time to engage in self-care activities (sidenote: There is a thin line between self-care and procrastination). Take time out of your day to help strengthen the mind and body.
More about Dan-neya
Here's an April 2021 update that details Yancey leading a pilot initiative at BBAY.
Discover Family Social Science
If you're looking for a major where you can make a difference and create change, Family Social Science is where you belong! FSoS draws on multiple disciplines, including social work, human development, sociology, and psychology, and offers small class sizes and individualized attention. Professors see you as a whole person, are interested in what you have to say, and are committed to your success. You'll be prepared for a variety of career paths in a tight-knit supportive department. Learn more about a major in Family Social Science.