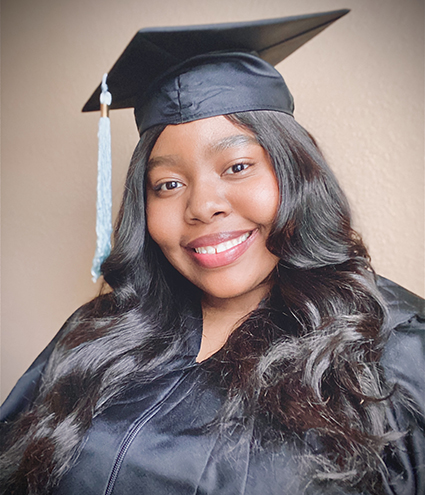 Dan-neya Yancey, a senior majoring in Family Social Science, was honored with a University of Minnesota President's Student Leadership and Service Award.
She also delivered the student commencement address for the College of Education and Human Development ceremonies on Saturday, May 16.
She was honored for her work as a Peer$ Money Mentor and the Mad City Money workshop that helps students build financial literacy. Peer$ Money Mentors and the workshops are organized by Joyce Serido, associate professor and extension specialist in Family Social Science.
"Dan-neya has a passion for helping others and her willingness to learn new skills to do that effectively was evident," says Serido. "She encourages everyone around her to do more and be more."
Yancey is graduating with a bachelor of science degree in Family Social Science with distinction and a minor in leadership.
This summer, Yancey will focus on securing an internship in her field and will also be researching and applying to graduate schools to pursue a dual master's degree in business and social work, or marriage and family therapy. Her career goals include becoming a licensed clinical therapist and an entrepreneur. She would like to someday own a professional healing/wellness business and become an author of children's books. Although she has many goals, the most important one for her is "to continue to inspire and be inspired along her journey, post-graduation!"