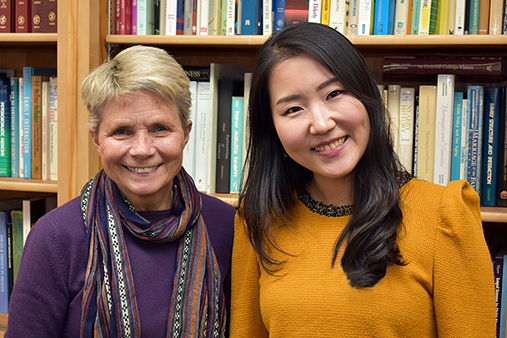 Susan Walker, associate professor, and Seonghee Hong, a Ph.D. student in Family Social Science, will receive the Family & Consumer Sciences Research Journal Best Paper Award in Family and Consumer Sciences Education for 2017.
The award will be presented at the 109th Annual Conference of the American Association of Family and Consumer Sciences (AAFCS) in Atlanta in June. Dr. Sharon DeVaney, editor of FCSRJ, will present the award.
The paper, "Workplace Predictors of Parenting Educators' Technology Acceptance Attitudes," was published in the June 2017 issue of FCSRJ.
The AAFCS Best Paper award recognizes work for the importance and originality of the topic; strength of the methodology and results; and the potential for a lasting contribution to family and consumer science.
In their article, Walker and Hong investigated the technology adoption of non-formal parenting educators in Minnesota. They found that attitudes toward technology use was directly related to the perceived ease of use and perceived usefulness of the technology. They recommended that organizations that employ parenting educators foster a climate that encourages technology use and provide ongoing and effective training.
The Family and Consumer Sciences Research Journal publishes original research in all areas of family and consumer sciences. AAFCS, the sponsoring organization of the journal, is the only national not-for-profit 501(c) (3) organization that provides leadership and support to family and consumer science professionals in education, research, business, and not-for-profit organizations.