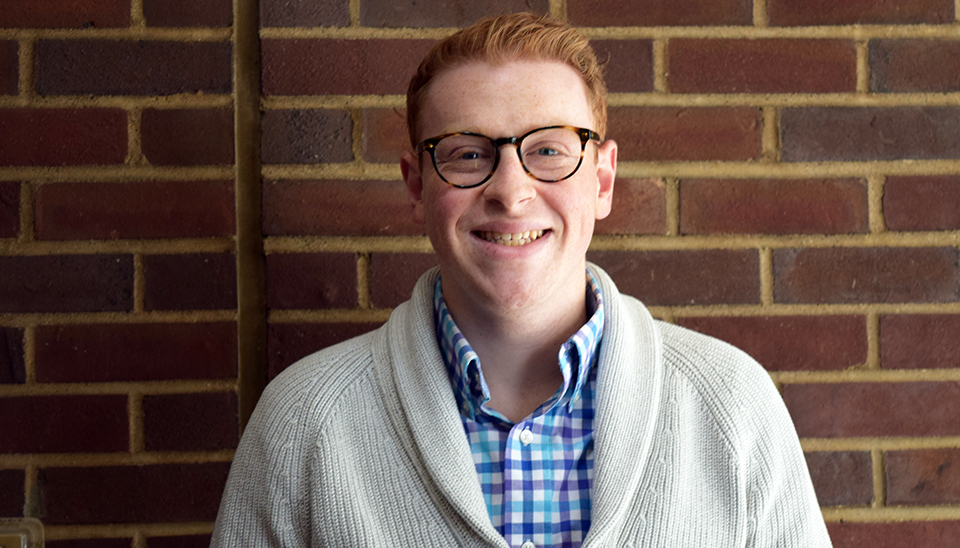 Aspring social studies teacher and M.Ed. candidate Eli Singer was surprised and pleased by the individual support from faculty, the strong bonds with his cohort, and how gratifying it was to get into the classroom and implement lesson plans with students.
What drove you to pursue your M.Ed. and initial teaching license in social studies program?
Right now, there are a lot of societal problems that need fixing. In my mind, many of these problems can be boiled down to education and more specifically, educational inequity. I chose to join this program to learn the skills necessary to help students navigate the broken American education system in hopes of bettering society in the future. I also think that the social studies is one of the best subjects where we, as teachers, can infuse students' learning with empathy, kindness, and a passion for advocacy and action. The U's program does a really strong job of addressing all of these different concepts, including a strong focus on social justice in the classroom, which appealed to me as well. 
When did you realize you wanted to be a teacher?
Kids' insatiable curiosity and blunt honesty makes them incredibly entertaining to be around. I want to be a teacher not only to interact with these fantastic and intelligent individuals on a daily basis, but also because I believe that providing a substantial and rigorous education to students is the most productive way to push our society forward. I want to be a part of helping improve our society for the future. To me, being a teacher is one of the best ways to do that.
What did you hope to gain from your experience in the program?
I think my answer to this question is twofold. First, I wanted the knowledge of theory. Too often, I worry that in any job, we make decisions without having a solid academic base for WHY we are doing wha we are doing. Secondly, I wanted to get experience. Throughout the program, I was able to plan curriculum from start to finish and then reflect on how it could be improved in the future. That type of experience is invaluable prior to entering the field. 
Were there any surprises and challenges along the way?
I think one of my biggest surprises in this program has been the close bonds I have formed with my peers. Because of the rigor of the program, we all got to know each other quite quickly which has been fantastic. My peers have become my support system for both the good days and the bad. I would say that one of the biggest challenges for me has been finding a balance between academics, teaching, and my social life. I won't lie–the program is intense. Finding the time for self-care is incredibly important and invaluable for your success in the program. 
What has been your experience with the faculty?
The amount of individualized support we get within this program truly surprised me. Because of the small size of the cohort, all of your professors not only know you personally but also provide very strong individualized support. This not only comes in the form of feedback on assignments but also in helping you design lessons, mitigate issues that might arise in the classroom, and more. The one-on-one attention is absolutely something I wasn't expecting and have really enjoyed. 
How have you felt about the cohort model and experience?
Your cohort will become the people you lean on throughout the program. While I thought that this type of support might come through my family and friends, I quickly found that they were not necessarily interested in my occasional vents because they were not going through it themselves. Your cohort gets it and are always there to help you out. I can't say the number of times I have felt like I was at a dead end and a quick call or FaceTime to a cohort member helped me figure something out.
Has the student teaching helped you feel prepared to enter your own classroom?
Absolutely. While I have had many different experiences in classrooms throughout undergrad, I had never planned and implemented curriculum to an entire class of students from start to finish. Student teaching gives you this opportunity. Additionally, it provides this to you in an incredibly supportive environment where trying new things is encouraged and welcomed.
What do you hope to do after graduation?
After graduating, I am hoping to find a teaching job! I am currently looking into opportunities to teach overseas for a few years before coming back to the Twin Cities in the long run.
Any other thoughts you want to share about your experience?
This program has made me feel more confident as I think about stepping into my first classroom next year.
Learn more about the M.Ed and initial teaching license programs in the Department of Curriculum and Instruction.