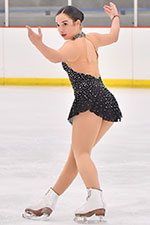 School of Kinesiology undergraduate student Eugenia Garza will compete at the 2023 FISU 31st World University Games in Lake Placid, NY, January 13-15. She will be representing Team Mexico in figure skating at the largest multi-sport collegiate event in the world (12 sports, 1500 athletes, 600 universities, 50 countries). Garza is a second-year student majoring in the field of kinesiology and a member of the Affordance Perception-Action Lab (APAL), directed by Dr. Tom Stoffregen.
Garza commented, "…Having this event where I get to represent my school as well as my home country is an incredible honor and a total reward. I'm super pumped that this event is a culmination of my academic and athletic achievements and hopefully will serve as a steppingstone for the rest of the season and next."
All events will be live streamed at https://www.fisu.tv/ and will be available on demand. Fans can follow the Lake Placid 2023 FISU World University Games on Facebook, Instagram and Twitter with @LakePlacid2023, @SaveWinterHQ, #lakeplacid2023, #savewinter.