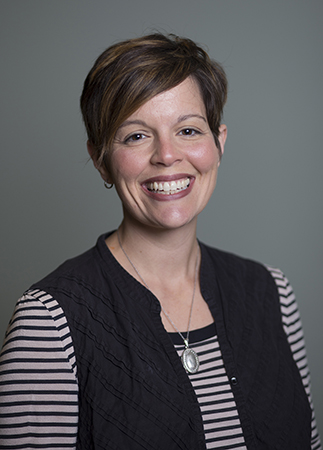 Anne Williams-Wengerd began her journey towards a doctoral degree in family science fall semester 2018. Advised by Professor Catherine Solheim, Williams-Wengerd conducts research on the grief experiences of parents of young adults with serious mental illness, applying the framework of ambiguous loss.
A licensed psychologist with a master's degree in counseling psychology from Bethel University, she worked for 13 years in the community mostly with individuals experiencing serious mental illness.
"I am not your typical graduate student," says Williams-Wengerd. "In my work, I noticed not only a lack of connection between practice and research, but also how family was often left out of the treatment equation."
But it wasn't until she was back in the classroom teaching psychology at St. Catherine University that something clicked.
"Being back in an educational environment had only caused my questions about research and the treatment of serious mental illness to grow," she says. "I knew I had to go back to school."
Her search for a graduate program that would – 1) fit her research interests and 2) allow her to not have to uproot family – led her to the University of Minnesota's Department of Family Social Science.
"After talking with faculty in FSOS, I knew that I found my program," she says. "While life isn't easy balancing my teaching half time at St. Kate's and having two children, I find that much of my work is synergistic."
She says that teaching informs her doctoral studies and that her experience as a student has given her increased empathy for her students and her children.
"I think this has improved my teaching," she says. "My teaching feeds my studies which feeds my research and on and on it goes!"
Williams-Wengerd also credits a supportive partner, and supportive colleagues both at St. Kate's and the U where she is a research assistant in the Institute on Community Integration.
"I feel very lucky to be able to be both a student and a teacher, and while my plan is to graduate in 2022, I hope to never lose that "curious student" part of me."