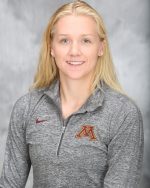 Sidney Peters, Gopher women's hockey alumna and graduate of the School of Kinesiology, is one of the nine finalists for the 2018 NCAA Woman of the Year Award. The award recognizes academic and athletic excellence, community involvement and service, as well as leadership among graduating female college athletes. Eligible athletes are nominated by their university, reviewed by their respective conference office, and then selected by the NCAA Woman of the Year committee.
In the past, Peters has been recognized as the 2017 B1G Distinguished Scholar and the 2018 Hockey Humanitarian Award recipient. She is a four-time Western Collegiate Hockey Association Women's Hockey Scholar-Athlete Award recipient, and has received several other awards throughout her academic and athletic career.
All finalists will be honored and the 2018 Woman of the Year will be announced on Sunday, October 28 at the Westin Indianapolis.