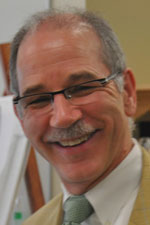 A multidisciplinary consortium at the U of M is doing groundbreaking work in the emerging field of neurorobotics.
Kinesiology professor Jürgen Konczak, PhD, director of the Human Sensorimotor Control Laboratory, is one of three leaders of the Neurorobotics Research Consortium. Each has a distinct but compatible view of the application of robotics to neuroscience, and they gather regularly to discuss advancements in the new field and identify projects to work on. One of their goals is to make the U of M a leading epicenter for research and development in the field.
The group's founder, Andrew Grande, MD, assistant professor in the Department of Neurosurgery, is also involved in the Brain Aneurysm Research Consortium at the U of M. The other member is Tim Kowalewski, PhD, assistant professor in Mechanical Engineering.
Potential projects range from exploring the use of robots that assist with neurosurgery to using robotic devices for neurological rehabilitation. The Consortium has the potential to bring together academics whose paths normally would never intersect.
The Consortium recently invited Jeff Krichnar, PhD, professor of Cognitive Sciences at University of California-Irvine, to speak. He heads the Cognitive Anteater Robotics Laboratory at UCI. "I like to get opportunities to talk about what we do and learn about what others are doing," he said. "Seeing the integration of the medical school with engineering on campus was wonderful."
Read more about the Consortium here.