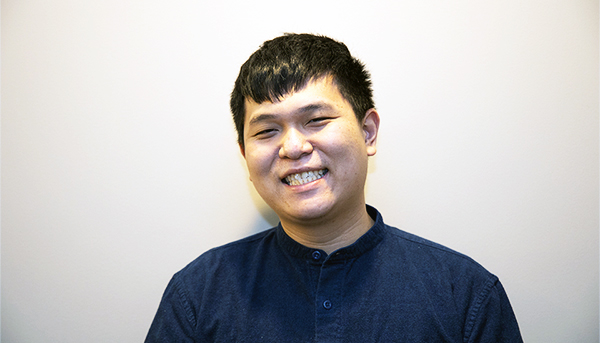 Global Studies major Jonathan Wang chose to add the Learning Technologies (LT) Minor to stay afloat in a rapidly evolving digital landscape. The program has enriched his career prospects as well as helped him discover extracurricular passions.
What drove you to enroll in in the Learning Technologies minor?
I first heard about the Learning Technologies minor through a class that I was taking with Dr. Pazurek. In that class, we learned about the ethics of technology and the impact on society. I learned so much about how new media is being used, and the challenges that are associated with technology. It tackled similar issues with my major and I wanted to continue to learn more and utilize technology in my learning.
Which part of the program have you found the most valuable?
In LT classes you experience various forms of media. Not only will you be using social media in a different way, but you will also be approaching it with a critical lens. This really helps me understand the power and reach of social media.
How has your experience been with the faculty?
Both instructors that I had, Dr. Pazurek and Dr. Koivula, are focused on helping students learn and produce their best work. They are also very compassionate and understand as students we have difficult circumstances. Overall, they are some of the best professors I had at the U!
Will the minor in Learning Technologies help you in your career path?
The LT minor, I believe, will help me beyond my career path. A key in learning technologies is utilizing technology to learn and grow. With the power of technology, it will not only help with my future of teaching, but also help me with finding new hobbies and ways to approach them!
How do you see technology and the internet changing how you learn in the future?
Technology and the internet will have a significant impact on how we learn. I have used knowledge-sharing websites, such as Skillshare, that allow me to learn about everything that I am interested in. I would love to continue learning at my own pace and pursue my passion.
Any other thoughts you want to share about your experience?
Learning Technologies have a big potential, especially with our growing technology needs. Recently in my global studies class, we had learned about inequalities with algorithms. I believe in the future, we will need to be more sensitive to how technology will impact society. Learning technologies will definitely be a rising field for everyone, across all disciplines.
Learn more about Learning Technologies degrees and programs in the Department of Curriculum and Instruction.