A passion for figure skating drew Eugenia Garza from Mexico to Minnesota at age 12. "I started skating when I was 3 years old, so that's 16 years now," says Garza. "A coach from Minnesota would give seminars in Mexico and told my mom, 'She could really make it. Move to Minnesota and train with me.'" By the time she turned 15, Garza was representing Mexico on the international figure skating stage. As the current Mexican national champion, she went to the Olympic qualifiers last September and, this January, competed at the 2022 Four Continents Figure Skating Championship.
Proximity to her family and figure skating coaches made the University of Minnesota a perfect fit. "I wanted to stay close enough so I could be near my family and keep training and skating but I also wanted to live on campus. It was close enough where I could still have my life and everything," she explains. In addition, Garza received an Undergraduate Research Scholarship (URS), which provides first and second-year students scholarship funding for participating in research with faculty. "I got a URS, and that was probably one of the most appealing parts of coming to the U – that I could do research and get paid for it."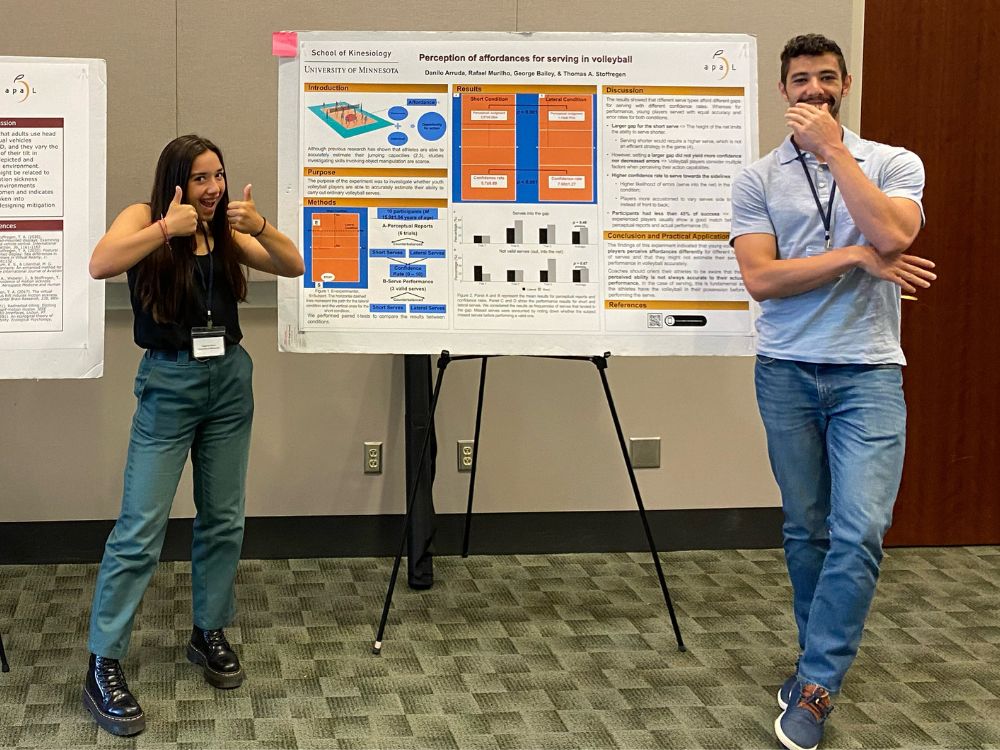 Throughout her years as a figure skater, Garza has worked with many physical therapists. With all these experiences she gained an admiration and respect for the field of physical therapy. It was that same admiration that brought her to the School of Kinesiology.
"So originally — the reason this whole thing started — was because I was always going to physical therapy and I loved my physical therapists. They're amazing. I don't think I ever disliked going to physical therapy."
"I'd been involved in sports for so long and I wanted to stay involved even after I was done skating and competing, so I figured it would be a good career path," adds Garza.
Her trajectory shifted when, in one of her introductory kinesiology courses, Tom Stoffregen, PhD, director of the Affordance Perception Action Lab (APAL), gave a guest lecture referencing some of APAL's research into the vestibular system, which helps to govern balance and stabilization. That piqued Garza's interest. "I had known of that previously because I'm a figure skater and one of our coaches specializes in vestibular training, so I thought it was pretty interesting." Immediately after that lecture, she decided to strike while the iron was hot and approached Stoffregen about openings in the lab. "I emailed him, set up a meeting, and started working in APAL within the week."
Balancing being an internationally recognized figure skater with studies, research, and a personal life isn't easy, and Garza credits her success to her family, her coaches and support from School of Kinesiology faculty.
"It's been a huge challenge to stay competitive and training so many hours with school, but I've managed decently. I've got a really good team of coaches and, in school, everybody's incredibly helpful. My professors help me get assignments done, get extensions, or make up for absences when I compete. It's a challenge, but not unmanageable."
Outside of her already busy schedule, Garza plays Ultimate Frisbee with the women's team at the University of Minnesota and is looking to play for a club team in the near future.
Looking ahead, Garza plans to continue competitive figure skating and hopes to expand her involvement in research. "It would be amazing to get my own research going because, right now, I'm just assisting. I love it, but it would be pretty cool to have my own research project." She's also considering graduate school. "Getting into grad school, that's definitely a goal. But I'm just taking it as it comes."
Garza remarks that her work with Stoffregen and the APAL team has connected her lifelong passion for figure skating to her undergraduate education. "Skating is a big part of my life, but somehow connects to everything else, like my schooling, so it worked out really well."