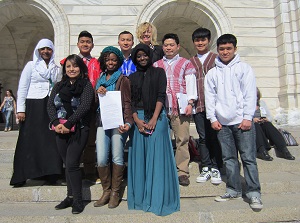 On March 13, members of the C&I faculty returned to the state capitol to testify at both Minnesota State House and Senate Education Committee hearings on upcoming bills to support English Language Learners (ELL) in Minnesota.
C&I's Jill Watson testified on a bill to support English Learner Students with Limited or Interrupted Formal Education (SLIFE). Watson was accompanied by students and a parent. (In the photo accompanying this post, one student is holding the copy of the bill passed right after their testimony.)
Watson says, "When we first began sharing information with legislators about SLIFE, many had never heard of, let alone considered, the unique needs of this group. Yesterday, when I asked for a show of hands in the Senate Education committee indicating who knew what 'SLIFE' meant, at least half the hands went up. It was clear to all of us that students with limited formal education are now very much on their radar, and we are delighted to have played a part in bringing that about."
C&I's Jenna Cushing-Leubner testified on a different bill to establish bilingual and multilingual seals attached to high school diplomas. "The opportunity of this bill is to recognize, tap into, and build upon the language resources of multilingual students – students from minority language backgrounds and those learning languages through language immersion settings alike." says Cushing-Leubner. "Minnesota's highly linguistically and culturally diverse students are an important and powerful asset for local communities and for the state. This bill suggests suggest a commitment on the part of the state to strengthen and support this valuable and growing community of learners."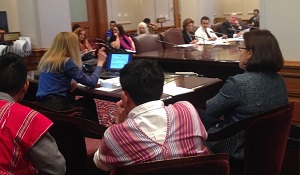 C&I Professor Kendall King testified on a bill which seeks to improve services for English language learners in the state and to support students' native language development and academic English.
Of the day, King reports, "U of M faculty have collaborated on many aspects of the legislation, and yesterday, our goal was to explain to a broader audience both the research behind these bills and the practical need for change." says King. "We are very excited with the direction the state is heading in supporting multilingualism for all learners."
Please visit our Second Languages and Cultures program area page for more information on faculty research and academic programs.