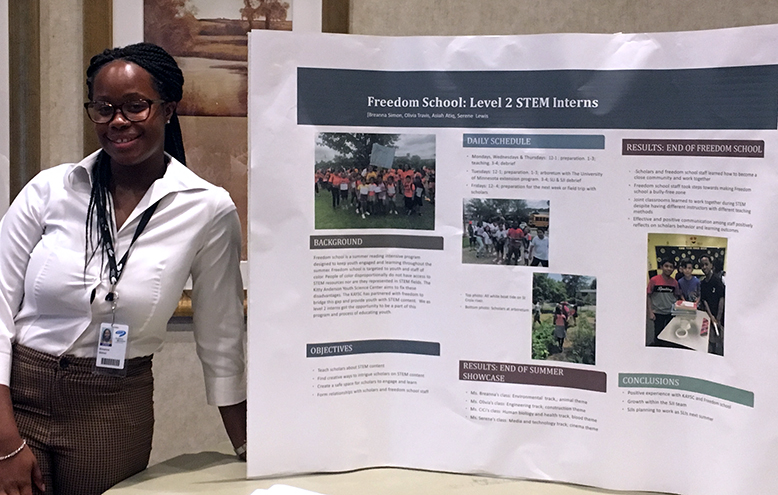 UMN rising senior Breanna Simon returned to familiar ground this past summer but she was hardly playing it safe.
When she was 16, Simon got her first job at the Science Museum of Minnesota's Kitty Andersen Youth Science Center (KAYSC). For two years, she was on the Bits to Bite crew that focused on food justice and technology and on the cell lab crew serving visitors. She learned valuable team-building and leadership skills.
Now a senior majoring in Family Social Science, she returned to KAYSC to do an internship, earn credit for her experience, and test her career goal assumptions.
"I got the chance to design my own course and my own learning goals and expectations," says Simon. "I enjoyed being able to go back as a KAYSC alumni and be welcomed by old bosses and co-workers, and loved seeing how the program has changed."
And it has changed. She worked with students in the St. Paul Public Schools' Freedom School ­to teach a summer program in STEM (science, technology, engineering and mathematics) – a relatively new addition to the summer reading intensive program designed for under-served communities. Simon taught over 30 children spanning third to fifth grades.
"We learned about coding and even made bracelets with our initials in code," says Simon. "In a stop motion animation lesson, we combined technology and health to make a workout video."
The summer program culminated in a STEM showcase designed by students. With an environmental theme, Simon's students decided to focus on animals.
"We had a North Pole theme, desert theme and jungle theme and students had different activities at each station," says Simon. "The North Pole theme had a 'guess the animal' question game. At the desert theme you could make your own fossil. Finally, at the jungle theme, there was a survival question game."
The showcase also gave her the opportunity to do a poster presentation about the program and what she learned during her internship. The experience was significant for Simon on a number of levels.
"One, I realized the impact I was able to have on my community," she says. "I am from Saint Paul and I lived in the Frogtown neighborhood when I was younger."
It also gave her confidence that her goal to work with youth in a clinical setting was a solid career choice.
"This confirmed that yes – I enjoy working with youth and youth enjoy working with me," says Simon. "Not to mention the class really helped the way I taught my youth. I was more aware about the type of teacher I wanted to be with my students so they felt heard. I had a great time!"
About KAYSC
The KAYSC provides out-of-school programing for hundreds of underserved youth with the goals of building leadership skills, career readiness, and fostering confidence and appreciation of Science, Technology, Engineering, and Math (STEM).
Youth start in the program as service learning volunteers in 6th grade, and can progress to paid positions during high school and after graduation as alumni interns.
The KAYSC helps youth excel by focusing on teaching them practical technology skills, getting them involved and invested in community contribution and service, and preparing them for education and future careers.