In 1993, the work of kinesiology professor Mary Jo Kane inspired alumna Dorothy McNeill Tucker, '45, to make a gift of $1 million to found the Tucker Center for Research on Girls & Women in Sport.
Twenty-five years later, the new Gopher women's basketball coaching staff drew a full house to Cowles Auditorium to celebrate the anniversary at this fall's distinguished lecture, "Why Women Leaders Matter: Challenges and Opportunities for Female Head Coaches in Collegiate Sports."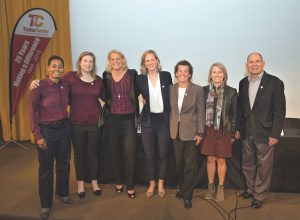 Former Gophers and now coaches Lindsay Whalen '06, Kelly Roysland '09, and Danielle O'Banion entertained and engaged the audience, answering questions from Kane about early influences, how and when they decided to coach, the transition from being an elite athlete to coaching, work–life balance, advice for young women who want to coach, and being a role model. Their range of replies provided a picture with depth.
Together they grappled with an unintended consequence of Title IX: the dramatic decline of women coaches—from 90 percent to 58 percent in just six years and now just 42 percent nationwide—while participation of women in sport went up in unprecedented numbers.
"I just thought women coached!" said Roysland, whose parents and grandmother all coached in Fosston, Minnesota. "I knew I could influence and empower other women."
In contrast, O'Banion grew up in Virginia, without siblings, and learned to play in an after-school program when she was 7. She was first coached by a woman in high school, then in college.
"It's been insanely valuable to be around women who have opinions," said O'Banion. "It's like a permission slip."
Being a role model, said Whalen, is a goal.
"Thinking about those fourth and fifth graders out there watching is what it's all about," said Whalen. "You want to see the next generation of players be better. You want the next generation of coaches to be better."
"The most rewarding thing is seeing what happens when they leave us," said O'Banion. "It's amazing."
Former Gophers athletic director Joel Maturi spoke passionately about the need for awareness and commitment by leadership to hire and retain women coaches.
The Tucker Center is still one of a kind. It has sponsored 41 major lectures, five video projects, a media campaign about women's sport coverage, boundary-breaking research projects, partnerships around the world, the Women in College Coaching Report Card since 2013, an annual Women Coaches Symposium since 2014, and dozens of influential reports and publications. It supports interns and students. Kane and renowned Tucker Center researcher Nicole LaVoi, PhD '02, introduced the anniversary celebration and panel.
Read a Q&A with the Tucker Center team in CEHD's Connect magazine.