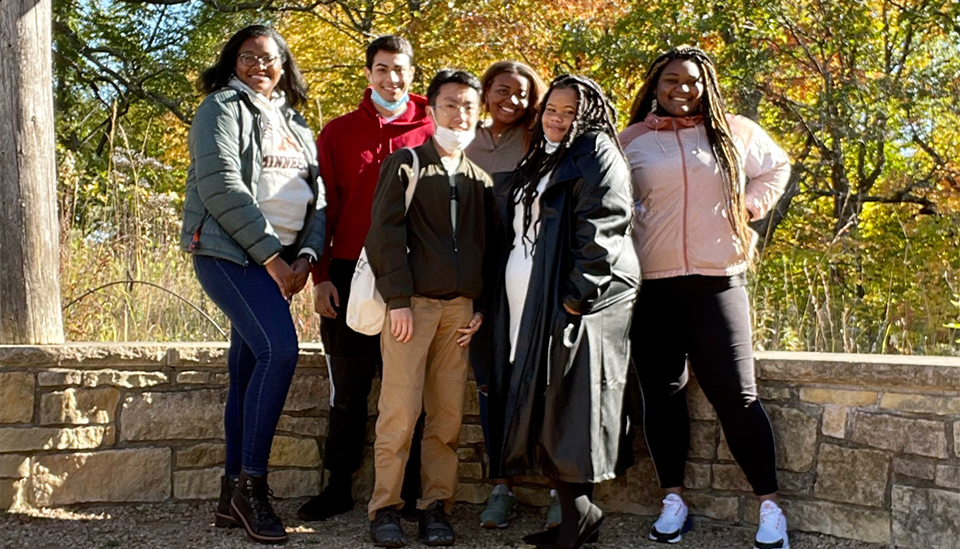 Abby Rombalski, a lecturer in the Department of Curriculum and Instruction (C&I), has been working with youth towards racial justice across school, community, and digital spaces. She seeks to engage young people from diverse communities who are uniquely positioned to lead social change in their own neighborhoods and schools. Through her research, Rombalski found that young people need a dedicated space and targeted support to help them create sustainable social change. In addition, she found that schools and community spaces often need young people to envision and lead this change. This led Rombalski, alongside community and University youth, to found YoUthROC in 2019.
YoUthROC is housed in the Department of Curriculum and Instruction, and an affiliate to the Robert J. Jones Urban Research and Outreach Engagement Center (UROC) in north Minneapolis. The program helps to advance UROC's mission to "link the University of Minnesota in vital public partnership with urban communities to advance learning, improve quality of life, and discover breakthrough solutions to critical problems."
The program relies on Youth-led Participatory Action Research (YPAR) as a way to provide support and training for anti-racist, justice-oriented youth research. Youth Participatory Action Research (YPAR) is a community-based social justice research framework that inclusively supports the leadership and knowledge of youth most impacted by disparities to develop solutions for social, cultural, and political transformation.
Shaunassey Johnson, a DirecTrack to Teaching student and co-founder of YoUthROC, got involved early in the planning process of the organization. "I had just transferred to the University of Minnesota and Abby, who'd known me since I was [in her 7th-grade class], asked if I would be interested in working with young, Northside women on a YPAR project and I jumped at the opportunity."
YoUthROC works in direct partnership with classes, schools, districts, and organizations. The organization is currently collaborating with Brooklyn Center Community Schools and their YPAR teams, Faribault YPAR team leaders, and students or teachers from Southwest, North High, and PYC Arts & Technology High School in Minneapolis to engage students through YPAR. YoUthROC's 2020 project asked, "In an uprising, how do youth move?" Using autoethnography, historical artifact cataloging, social media analysis, and focal groups, the team developed a curriculum about youth in social movements.
"In many cases, the education system burns kids out by the time they reach middle and high school," says Johnson. "I find it a perfect challenge to rekindle whatever this system flattened out of these kids with YPAR. YPAR is not about measuring academic knowledge; it is not about physical ability; It is about coming as you are and being open to trust, or learning to trust, and taking up a passion with a team of equals."
YoUthROC is always looking for more members. Contact Abby Rombalski to learn more . Follow them on Instagram @youthroc.umn.
Consider making a gift to support YoUthROC.