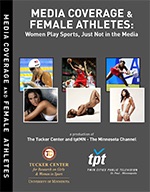 The Tucker Center for Research on Girls & Women in Sport is proud to announce a rebroadcast at 8:00pm on July 17 of its groundbreaking video, "Media Coverage and Female Athletes."
The video builds on a research-based examination of the amount and type of coverage given to female athletes with commentary from expert scholars and award winning coaches and athletes who discuss this timely issue from a variety of perspectives as they help dispel the common—but untrue—myths that "sex sells" women's sport , and no one is interested in it anyway. Effective strategies for increasing media coverage and creating images which reflect the reality of women's sports participation and why this is so important are also discussed.
To view the entire program online now, click here. For more information on upcoming broadcasts, click here.