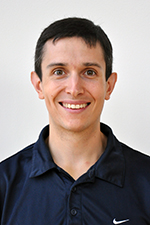 Zachary Pope, Kinesiology Ph.D. candidate, has been awarded the prestigious University of Minnesota Doctoral Dissertation Fellowship for 2017-2018.
Zachary is advised by Kinesiology associate professor Zan Gao, Ph.D., and is a member of the School's  Physical Activity Epidemiology Laboratory. His thesis is titled, "Use of Polar M400 to Improve Physical Activity and Eating Behaviors among College Students: A 12-week Randomized Pilot Study."
The Doctoral Dissertation Fellowship (DDF) gives the University's most accomplished Ph.D. candidates an opportunity to devote full-time effort to an outstanding research project by providing time to finalize and write a dissertation during the fellowship year.
Zachary is one of just 100 students across the University who received the award this year. Congratulations!