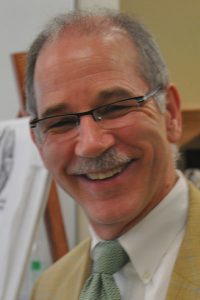 Jürgen Konczak, Ph.D., School of Kinesiology professor and director of the Human Sensorimotor Control Laboratory (HSCL), is the primary investigator of a $776,000 NIH R01 award to examine a new approach to treat the voice and speech problems of people with spasmodic dysphonia (SD).
Current therapeutic options for treating SD are very limited.  SD does not respond to conventional speech therapy, and is treated primarily with Botulinum toxin injections to provide temporary symptom relief.  There is no cure for SD. Pilot data from Konczak's lab showed that 1-2 short treatments of vibro-tactile stimulation of the larynx can effectively reduce voice symptoms in patients with SD. The grant will explore the long-term benefits of this novel form of non-invasive neuromodulation.
Other members of the interdisciplinary research team include Dr. Peter Watson, a voice disorder specialist, and Dr. Yang Zhang, an expert in the analysis of cortical activity during speech. Both are faculty in the U of M Department of Speech, Language and Hearing Sciences. Dr. Goding from Otolaryngology represents the clinical partner in the team. He is an expert in SD and treats these patients regularly in the U of M Lion's Voice Clinic. Dr. Naveen Elangovan and Arash Mahnan from HSCL will complement the team.