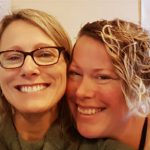 Nicole LaVoi, Ph.D., senior lecturer in the School of Kinesiology and co-director of the Tucker Center, participated in the 43rd class of the NCAA Women Coaches Academy (WCA) and the inaugural master class of Academy 2.0 hosted by the Alliance of Women Coaches (AWC) in Englewood, CO, last week.
Forty-eight female coaches of all experience levels and sports from NCAA Divisions I, II and III gathered for four days of non-sport-specific educational training at the NCAA WCA. In response to a desire for additional growth opportunities from graduates of the NCAA Women Coaches Academy, the Alliance created Academy 2.0, a master class for WCA graduates. Class #1 of Academy 2.0 consisted of ten female coaches representing various sports across the country.
Missy Price, who received her Ph.D. from the University of Virginia in 2010 and was advised by the School of Kinesiology's Maureen Weiss, Ph.D.,  was selected as the Cecile Reynaud Coaching Mastery Award winner for Academy 2.0 Class #1. Price is the head soccer coach at Wellesley College.