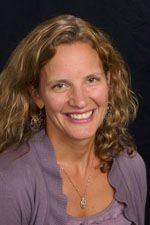 Beth Lewis, Ph.D., professor in the School of Kinesiology with a research focus on behavioral aspects of physical activity, was recently cited in a story published by Reuters.  The Health News feature, titled "Exercise may stave off postpartum depression," discussed an article recently published by researchers from Spain and Chile. Their findings align with Lewis's research outcome that regular, low-intensity exercise has a positive effect on postpartum depression.
The study authors didn't draw conclusions or provide recommendations about the type or length of exercise that would be most beneficial, but suggested that future studies should include more data about the types of physical activity programs that could reduce depression.
Lewis and her colleagues currently are conducting a randomized trial that analyzes home-based exercise and home-based wellness programs among 450 mothers with a history of depression. In another study, they're analyzing exercise programs among low-income women at risk for postpartum depression.
"Exercise is often the first thing that gets crossed off the list when there's a new baby," Lewis said in the article. "It's important to take care of yourself through exercise to keep that wellbeing high."
The story also appeared on the English language media outlet, Channel NewsAsia, based in Singapore.