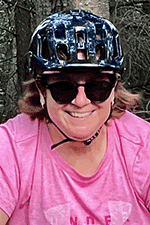 In this episode of "Tucker Center Talks" [S2E14], Nicole M. LaVoi, Ph.D., senior lecturer in the School of Kinesiology and director of the Tucker Center, talks to Dr. Ann Pegoraro, the Lang Chair in Sport Management at the University of Guelph in Canada. Her research focuses mainly on sport consumers, marketing and communication, including all forms of media. Dr. Pegoraro is also the co-director of the newly formed Canadian National Research Network for Gender Equity in Sport. In this pod, we launch The #disruptHERS in Women's Sport Series, a collaborative podcast between the Tucker Center and the Canadian network. #disruptHERS will highlight why disruptions to the "normative male model of sport" matters, and in each pod we'll discuss with each other and colleagues the most current and "hot" disruptions. Listen to the podcast…
#HEREPROOF is a social media campaign that shows proof that people are interested in women's sport. Post your data, pictures, tweets of interest in women's sport.
"Tucker Center Talks" is a co-production of the Tucker Center for Research on Girls & Women in Sport and WiSP Sports.