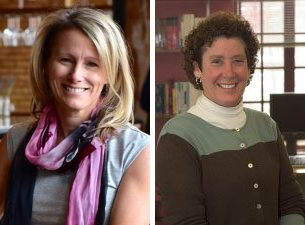 The Women's World Cup, with issues surrounding pay equity, winning records, and other topics related to professional women athletes, has inspired a world-wide conversation about women in sports at this place in time. And the Tucker Center for Research on Girls and Women in Sport has been a rich source for the media on these topics.
In the Star Tribune, editorial writer and columnist John Rash writes about the documentary just released, "Maiden," comparing the story of the all-women crew who raced a boat in a nine-month, round the world race against all odds, with the success of the Women's World Cup winners. Nicole LaVoi, PhD, director of the Tucker Center, was interviewed extensively.
LaVoi and Tucker Center affiliated scholar Cheryl Cooky were interviewed July 14 on Business Radio, powered by the Wharton School, talking women's sport, the Women's World Cup and why female role models matter.
And Tucker Center director emerita Mary Jo Kane, PhD, was interviewed July 12 on TPT – Twin Cities PBS Almanac, where she discussed the significance of women's sport and the Women's World Cup.