"Coaching is a series of teachable moments," said Dr. Nicole M. LaVoi, director of the Tucker Center for Research on Girls & Women in Sport, to a group of visiting basketball coaches from Saudi Arabia and Azerbaijan. The group, which included nearly 30, mostly female, basketball coaches, visited the 3M Arena at Mariucci on Tuesday for a workshop and Q&A session focused on coaching girls as well as barriers and opportunities surrounding girls and sport.
The group traveled from the Middle East to Minneapolis with the U.S. Department of State's Sports Visitor Program, a sport-based exchange that builds ties between international and American athletes and coaches. They'll also experience the Women's NCAA Final Four basketball games during their visit.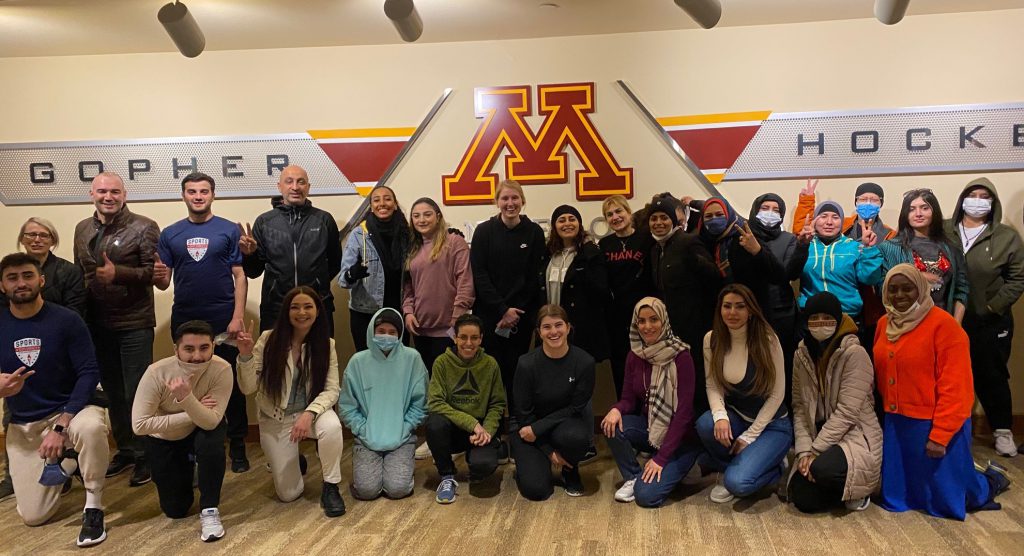 Topics of discussion included shifting cultural perceptions surrounding girls playing sports—the importance of communication and trust-building with parents, as well as the far-reaching physical and psychological benefits of sport for girls, and creating a supportive climate for girls in sports.
Tucker Center research assistants Efrat Abadi, Courtney Boucher, and Hannah Silva-Breen joined LaVoi in discussion with the international coach group, which concluded with an interactive Q&A surrounding female athletes and body image, an issue that coaches in the U.S. and abroad alike experience.
"In the Tucker Center, we try to teach girls it's more important what your body can do, as an athlete, than what your body looks like. That's our role as a coach, and that's the power of sport," said LaVoi.