Tucker Center director honored for lifetime of dedication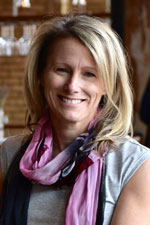 The 2023 US Open marks the 50th anniversary of men and women first earning equal prize money in tennis, and the United States Tennis Association (USTA) is taking the occasion to celebrate the pioneering women who have led that important fight for equality.
One of those women is Dr. Nicole M. LaVoi, director of the Tucker Center for Research on Girls & Women in Sport at the University of Minnesota. In recognition of her many years of commitment, leadership, research, service, passion for tennis, and dedication to equality for women in sport, LaVoi has been named a "Champion of Equality."
Honoring the Champions of Equality is a prominent aspect of the US Open this year. Presented by Cadillac and in support of the Billie Jean King Leadership Initiative, the event celebrates the historic events of 1973, including the Battle of the Sexes between King and Bobby Riggs.
Held in the Arthur Ashe Stadium on the evening of the women's singles semifinals on Thursday, September 7, Champions of Equality will recognize one female leader from each of the 17 USTA Sections who embodies that same spirit—someone who ignites change, with an eye toward the next generation. Awards will be presented by King and include in-stadium recognition during the match.
LaVoi was selected as the honoree from the USTA Northern Section. She will be presented her award alongside some of the game's greatest trailblazers.
"Tennis has shaped every aspect of my personal and professional life from making life-long friends to pursuing a career dedicated to leveraging sport as a vehicle to empower girls and women," she says. "To be chosen for this award in such a landmark year as we celebrate 50 years of pay equity in tennis, and the battles Billie Jean King began and I have taken up, is an unbelievable honor. I stand on her shoulders, and of so many other women who fought for the right for me to play, coach and pursue my passions in and through sports. Tennis has given me so much, it truly is a game of love, that I love."
Making a difference through sport
LaVoi was a four-year starter for the Gustavus Adolphus College women's tennis team, where she was a two-time NCAA Academic All-American, and helped her team achieve an NCAA D-III national championship in 1990, as well as runner-up (1991) and fourth place (1989) finishes during her tenure. She was also instrumental in winning numerous team, singles, and doubles MIAC conference championships.
After Gustavus, LaVoi went on to become a USPTA Teaching Professional and collegiate tennis coach (assistant at Carleton College, head coach at Wellesley College) before returning to earn her PhD in kinesiology at the University of Minnesota. Following her passion for fairness, equity, and making a difference through sport, she has become a recognized leader, scholar, advocate, author, and speaker pertaining to gender equity, and topics related to girls and women in sport.
For the past 18 years LaVoi has been a senior lecturer in the area of social and behavioral sciences in the College of Education and Human Development's School of Kinesiology and a leader in its Tucker Center for Research on Girls & Women in Sport, where she is currently the director. The Tucker Center, established in 1993, was the first and only research center of its kind in the world solely devoted to the academic study of girls and women in sport, and is known as a global leader in establishing standards of excellence with respect to scholarly inquiry, graduate education, community outreach, and public service. Preceding her career in higher education, LaVoi was involved with many USTA programs, including the NJTL, The School Program, Junior Team Tennis, Regional Training Centers, and USA Tennis. She also coached Zonal, Intersectional, and Jr. Fed Cup teams in both the New England and Northern USTA sections, in addition to coaching youth and high school tennis.
Through her multidisciplinary research, she answers critical questions that can make a difference in the lives of sport stakeholders—particularly girls and women. LaVoi has published more than 100 book chapters, research reports, and peer-reviewed articles across multiple disciplines focused on the relational qualities of the coach-athlete relationship, the effect of adult behaviors (parents and coaches) on children and youth, the emotional experiences of youth sport parents, the physical activity of underserved girls, and media representations of girls and women in sport. As a foremost scholar on gender, leadership, and women coaches, her inspiring research includes the annual Women in College Coaching Report Card™, which is aimed at retaining and increasing the number of women in the coaching profession while holding decision-makers accountable. Her best-selling award-winning book Women in Sports Coaching was the Outstanding Academic Title winner of 2016. Embodying the value of making her research accessible, she has co-produced three Emmy-nominated documentaries with tptMN—GAME ON: Women Can Coach (2018), Concussions & Female Athletes (2011), and Media Coverage & Female Athletes: Women Play Sports, Just Not in the Media (2013), which won a regional Emmy for best sports documentary. In 2023, LaVoi parlayed her multidisciplinary expertise into an innovative, evidence-based coaching curriculum titled Coaching HER® aimed at helping coaches minimize the effect of gender bias and stereotypes. LaVoi is also an award-winning teacher, earning the Distinguished Teaching Award in CEHD in 2016. She is a Hall of Fame inductee of St. Cloud Technical High School and the Gustavus Adolphus College.
As a public scholar, LaVoi was invited to give a TEDx talk, consults, and gives keynotes frequently around the world to sport stakeholders who are striving toward gender equity, including Sport New Zealand, Sport Canada, the Japanese Academy for Women Leaders in Sport, NCAA, Project Play of the Aspen Institute, and many national sport governing bodies. She and the Tucker team have hosted the largest women coaches symposium in the world for the past nine years. With a valuation and commitment to giving back, she serves as a member of numerous national advisory boards, including the board of trustees at her alma mater Gustavus. LaVoi, as a worldwide leader, has been quoted in The Washington Post, TIME, The Wall Street Journal, Forbes, the Atlantic, CNN, the New York Times, the LA Times, and appears regularly on NPR and local TV news outlets.